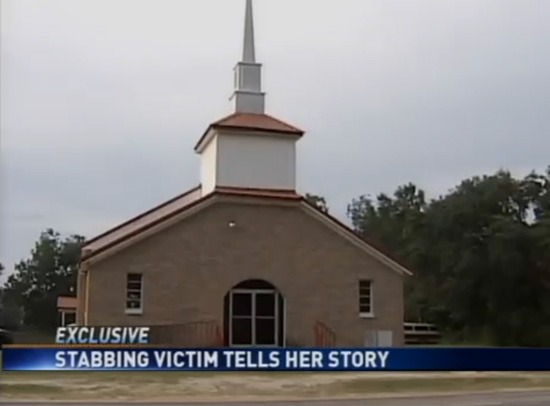 You can say good-bye to feeling safe in the church anymore … well at least at this one.
An R&B singer and his mother were attacked by a knife-wielding deacon after a fight broke out over money at the New Welcome Baptist Church in Alabama.
It sounds like a plot for a TV show. A pastor tased at church, after firing his minister of music. Investigators say during a fight that broke our after Sunday services, a deacon pulled a pocket knife and stabbed the minister of music's mother. It all went down at the New Welcome Baptist Church in St. Elmo. Local 15'S Andrea Ramey talked exclusively with the woman who had to get 19 stitches after the brawl.

"I said, 'oh my god he done cut me!" said Agolia Moore.

Moore says her house of worship quickly turned into a house of horrors Sunday night when a bloody, brawl broke out in a back room of her church. She says church leaders ganged up and fired her son Simone, who had been serving as the music minister.

"They owed him. He asked them for his money. That was the big thing right there, wasn't no more or no less," said Moore.

Investigators say Deacon Harvey Hunt whipped out a knife and started slashing at people.

"And you weren't attacking him?" asked Ramey. "No, I didn't do anything to him. When I told him what he did to my son he came at me, deliberately cut me," replied Moore.

Nineteen stitches and a surgery later, Moore says she wants her side of the story told. She says while her son did tase pastor Daryl Riley. She says it was the pastor and other church leaders who started the fight.

"He done got cut before anything started," said Moore.

Moore says her son and Riley had not been getting along for sometime before the melee ensued

"Last Sunday, Simone didn't take the Lord's supper from him. And he was hot about that. Well, you can't make nobody take the Lord's Supper, communion, if they don't want to take it," said Moore. "Everything Simone do at that church. Rev. Riley didn't like it. He didn't like his music, saying he was playing the wrong music."

Moore says she no longer feels welcome at the New Welcome Baptist Church. Sunday's service was her last at that house of worship.

"I never go back there. Never. Probably wont go to St. Elmo and that's my home."

Warrants have been signed for Simone Moore and for Hunt. Both are charged with assault. Hunt's charge is a felony, while Simone Moore's is a misdemeanor. And no word yet from Riley or Hunt. We've reached out but haven't heard back.
WTF?!? We've definitely heard it all now…
Be the first to receive breaking news alerts and more stories like this by subscribing to our mailing list.