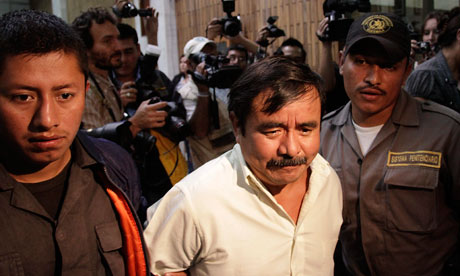 A Guatemalan court sentenced a small group of solders to 6,060 years in prison each (holy sh*t!) for the 1982 massacre of over 200 men, women and children in 1982 at the height of the country's brutal 36-year civil war.
The four soldiers — Carlos Carias, Manuel Pop, Reyes Collin Gualip and Daniel Martinez Hernandez — were all given 30 years of prison for the deaths of each of the 201 people killed in the attack, which occurred in the northern Guatemalan village of Las Dos Erres.
The court also found the soldiers, who were all special forces officers at the time of the massacre, guilty of crimes against human rights, and added another 30 years to their sentences.

Former Second Lt. Carlos Antonio Carias received an extra six years for stealing some the victims' belongings, the court said in a statement. Prosecutors say he was in charge of a military base near the community of Dos Erres and provided information to the army that led to the massacre.
According to court filings, the officers, who were all a part of an elite unit of 17 soldiers known as the "Kaibiles," went to the village in December 1982 and shot, strangled and bludgeoned the villagers to death with sledgehammers.
The court filings state that they were in search for missing weapons that guerrilla groups operating in the region had allegedly stolen from the soldiers just a few days prior.
The men also raped and killed women and girls, and banished hundreds of people from the community, while more than 40 soldiers guarded the village's perimeter.
Nearly 250,000 people were killed in the Guatemalan Civil War, which ran between 1960 and 1996, and thousands more are still missing.
[FOX]
Be the first to receive breaking news alerts and more stories like this by subscribing to our mailing list.