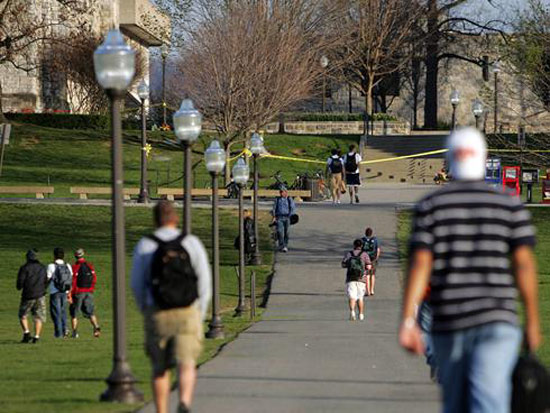 A gunman was spotted on Virginia Tech's campus earlier today. The university has been placed on lock-down since the incident.
The campus of Virginia Tech was put on lockdown Thursday morning after three children attending summer camps at the university reported seeing a man with a gun covered by a cloth.

At a news conference Thursday, police confirmed that no one was in custody.

Authorities are now combing the campus, which was the scene of a horrifying massacre in April, 2007.

The suspect is described as being a white man, 6 ft tall with light brown hair, according to a university administrator who spoke to CNN.

The man was said to be wearing a blue and white striped shirt, brown sandals and did not have glasses or facial hair.

Davis told CNN that the university hosts as many as 100 different summer camps for children this time of year.

"We have a lot of kids who come to these specialized camps," the administrator told CNN.

On April 16, 2007, Virginia Tech was the scene of a horrifying school massacre. In two separate attacks, approximately two hours apart, a gunman, Seung-Hui Cho, killed 32 people and wounded 25 others before committing suicide.

The massacre is the deadliest shooting incident by a single gunman in U.S. history.
We hope they catch whoever this guy is ASAP … he is definitely a threat!
Be the first to receive breaking news alerts and more stories like this by subscribing to our mailing list.