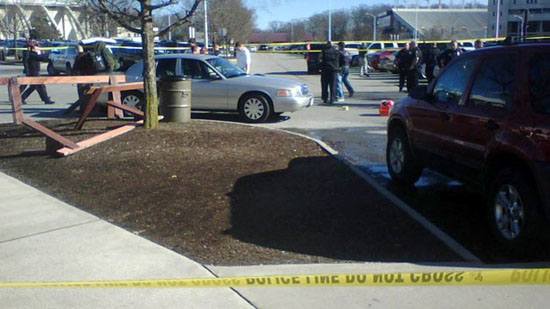 A police officer was reportedly shot to death today on the campus of Virginia Tech, the same university where a student went on a killing spree 4 years ago that left 32 students and faculty members dead.
Initial reports state that another person was shot and killed today as well. It's not known whether that person is a student, faculty member or simply a campus visitor.
The gunman is still at large and the campus is currently on lockdown, along with schools in the surrounding area.
WNEM TV in Blacksburg, Virginia is reporting:
"Shortly after 12 p.m. today, a Virginia Tech officer stopped a vehicle on campus during a routine traffic stop in the Coliseum parking lot near McComas hall. During the traffic stop, the officer was shot and killed," according to a statement by Mark Owczarski, director of news and information at Virginia Tech.

Shots were fired near an off-campus parking lot and then about an hour later at the performance arts center on campus. A person near the performing arts center is reported to have surrendered, but he is not the shooter.

More shots have been reported in at least two other locations on campus. However, police say some of the reported gunshots might be trash dumpsters banging together during trash pick-up.

The school is under lockdown, with law enforcement, the FBI and school officials swarming to the campus. Police dogs have been called in for the search, and students have been moved to the student center, including The Collegiate Times staff.
aAccording to a Virginia Tech alert sent to students, one of the victims was located in the Cage Lot, an off-campus parking lot where students can park their cars and take a shuttle to campus.

The university's website described the shooter as white male wearing gray sweatpants, a gray hat with a neon brim, maroon hoodie and backpack.

Law enforcement have blocked the back gates to the campus, according to local law enforcement. The FBI and the school president are also on campus.

Police have requested any unassigned units to report to the south gate.

Classes have been suspended until further notice.

The shooting was the result of a routine traffic stop. According to NBC, the shooter fired at the officer who made the stop, and the officer returned fire.

The university says the shooter fled on foot, heading toward Duck Pond Drive. At that parking lot the second victim was found dead.

This is not the first shooting on the Virginia Tech campus. On April 26, 2007, Seung-Hui Cho killed 32 people – five faculty members and 27 students – and wounded 25 others before committing suicide. Cho killed himself as police stormed the building.af
Be the first to receive breaking news alerts and more stories like this by subscribing to our mailing list.