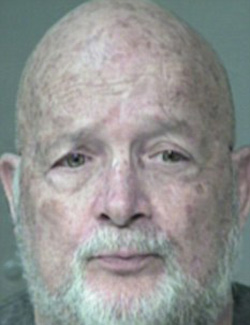 A dirty old geezer who says he hasn't had sex since the 80's made the decision to sexually assault his maid while she was cleaning his trailer, claiming that he was under the influence of Satan. (You know, the same guy everybody blames when they do sick things like molesting/raping people.)
76-year-old Bobby Guyton is now facing a felony count of sexual abuse after being accused of making sexual comments towards the woman as she cleaned his home, and allegedly forced her to put her hand on his penis on four separate occasions.
In one incident, Guyton tried to give the woman a hug, but allegedly grabbed her hand and forced it onto his penis instead.
The woman reported the incident to police and when questioned about it, at first, the old perv said he didn't know why he did it … because he got no enjoyment from it.
He later told police that "Satan had gotten into him" and made him do it. He also said that he felt sorry for himself because he hadn't had sex since 1980.
After he was arrested, freaky Bobby denied grabbing the woman at all and made up some crazy story about her trying to punch him in the stomach because she was angry that he was going to fire her. And when she tried to punch him, she missed and hit him in the groin, which is when he grabbed her hand as it was on his penis.
After more questioning, Mr. Guyton, the articulate fella that he is, admitted that "he may have kept her hand on his penis for several seconds longer than was necessary."
Ha, this guy!
Be the first to receive breaking news alerts and more stories like this by subscribing to our mailing list.