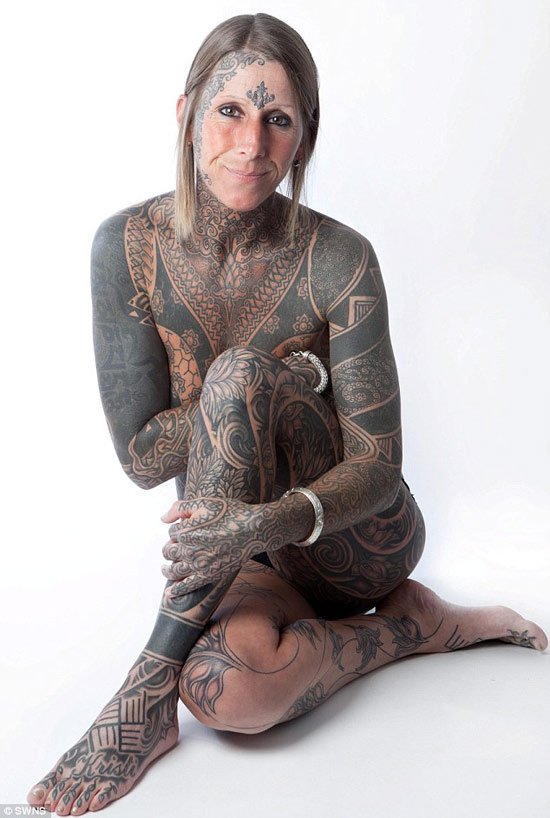 This lady decided to tattoo her WHOLE … ENTIRE … BODY after going through a divorce.
The entire process took about 8 years. (Must have been one long, rough marriage!)
Jacqui Moore, 41, was so happy to be free from her ex she spent eight years getting 85 per cent of her flesh inked.

Her left armpit, half her right leg and most of her face have been left bare.

But they will also be included in the full-body artwork when she gets more etchings done next year.

New lover Andreas "Curly" Moore, 45, began the mammoth artwork after Jacqui divorced husband Martin in 2003.

Gardener Jacqui, who works at a posh private school, said: "I went to get a new tattoo to symbolise my freedom and the new chapter in my life.

"When I got to the parlour I met Curly and we fell in love and he has been tattooing me since."

The complex ink piece includes a swarm of dragonflies on her back and a large spider's webs etched on to her stomach with tarantulas crawling from it.

Curly also spent 35 hours tattooing her right leg with swirling Indian and Tibetan flowers.

He did not charge Jacqui for the epic work — which would have cost a staggering £13,440.

Mum-of-two Jacqui, from Oxford, said her eldest daughter Kristi, 21, was not too keen on her tattoos.

But she said: "She has two tattoos herself, so she can't object that much."

And Kristi is not the only one who is sceptical. Jacqui added: "Lots of people treat me differently. Some are very nice while I get a lot of funny looks from other people. Some people even tell me I look disgusting.

"But I am proud of my body, I see it as a work of art. "I love seeing my body change every time Curly tattoos me. It's an incredible journey of self-discovery.

"My employers respect my art and are happy for me to continue with my project."

Not all employers agree. The Sun told this week how one top cop sparked controversy when he called for tattoos to be allowed for bobbies.

They currently have to be covered up.

But Kent Police Federation chairman Ian Pointon believes they can be an icebreaker with young people.

But one critic of visible body art said: "Like it or not, people judge you for having a tattoo."
Check out a pic of tatted up Jacqui and her equally tatted new lover "Curly" below:
SMH … This is truly a work of art. And we don't mean it in a good way!
Be the first to receive breaking news alerts and more stories like this by subscribing to our mailing list.