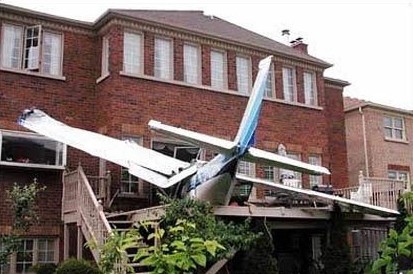 A 47 year-old man from Switzerland recently attempted to seek revenge on his mother by crashing a plane into her house. (Yes, we're serious!)
Thankfully, with karma being the bitch that she always is … the son died, and the mom lived.
A man in Switzerland is dead after police say he flew a plane into the window of his mother's house, asking her in a final call: "Are you home, mum? I'm just about to drop in."

Rosemary Schmidt survived what police characterized as an attack on the house in Oberhallau, Switzerland, British newspaper The Telegraph reported.

Konrad Schmidt, a qualified pilot, had been feuding with his mother for a long time after his parents' marriage ended, which was followed by his father's death from cancer, police told The Telegraph.

Konrad Schmidt suffered from depression and also had financial problems, police said.

The mother's neighbors told the Swiss newspaper Blick that the 47-year-old man flew past the house three times as though he was practicing for his final descent, The Telegraph reported.
WTF? Who does that?! We hope this guy is burning in hell right now for trying to kill his own mother…
Be the first to receive breaking news alerts and more stories like this by subscribing to our mailing list.