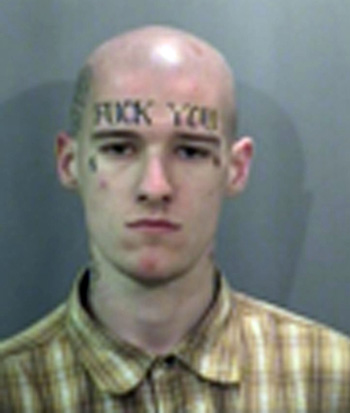 Tip of the week: If you plan on doing something illegal — like oh, we don't know … cashing a stolen check (from a church, of all places!) — you might want to think twice if you have a tattoo that reads "F*ck You" written across your forehead. Because that might make you look suspicious enough for someone to call the police on you.
Read more below:
A Shasta County inmate's picture has gone viral, not because of the crime he's accused of, but because of the tattoo across his forehead.

Investigators say 21 year old Patrick Brooks tried cashing a check from Cottonwood Bible Baptist Church at a check-cashing store on Bechelli Lane Monday. His mugshot shows the prominent tattoo, which features a four-letter word starting with the letter "f."

But store manager, Glenn Bassett got suspicious when he saw Brooks' forehead which had an obscenity tattooed on it.

The church's telephone number had been crossed out on the check and another one was written in its place.

Bassett then called Pastor Eric Madsen to confirm the check was from the church. Once Madsen was able to confirm he had not written the check, Bassett called police and Brooks' was arrested.

Madsen told KRCR NewsChannel Seven he went to the church to figure out how Brooks got hold of the check and found that somebody had cut a window screen into the church.
He found several checkbooks were missing and $250 dollars in cash was gone from a filing cabinet in his office.

Brooks was arrested and charged for burglary, receiving stolen property, forgery and violating parole.

Madsen says the stolen money was from several fundraisers for the church's teen youth group camp.

Brooks appeared in court Wednesday where he pleaded not guilty to charges including receiving stolen property, forgery and parole violation.
We think calling this guy a dumbass would be way to easy. Anyone know of some other fitting words to describe this guy?
Be the first to receive breaking news alerts and more stories like this by subscribing to our mailing list.