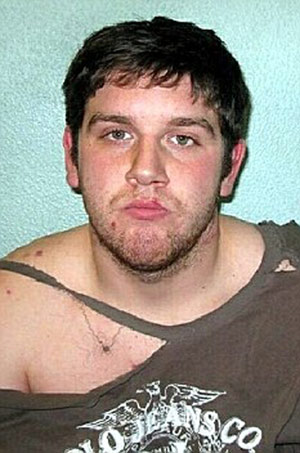 This guy should win the award for most mature guy alive…
The man above was recently arrested for knocking a wine bottle over the head of a former soldier after being asked to stop his baby from crying.
Read more below:
A young father smashed a wine bottle over a diner's head when he complained that his baby would not stop crying.

Company director Clive Merrifield, 45, was enjoying an evening meal with partner Idalina Lucas when he politely suggested Billy West, 20, and his girlfriend to put the wailing seven-month-old to bed.

West approached the couple's neighbouring table, pulled a bottle of white wine from their ice bucket and brought it down at 'full force' onto Mr Merrifield's skull in front of stunned customers.

He has been jailed for two years and five months for the sickening attack.

The victim was left with a 'four inch ragged scar' on his scalp following the brutal assault at Parveen, an Indian Restaurant in Theberton Street, Islington, north London.

The former soldier fears the wound makes him look like a thug and is anxious about his image with employees and clients, Blackfriars Crown Court heard.

Karen Robinson, prosecuting, said the clash took place shortly after 10pm on October 9 last year after the baby had been crying for up to half an hour.

West was sitting at a table with his young family and another man, and Mr Merrifield and Ms Lucas were at the next.

'The baby was crying and the lady was seen to get up and down and make moves in an effort to comfort the baby,' said the barrister.

'It was described as consistent and persistent and went on for about 15 to 30 minutes.

'Other customers were looking in the direction of the baby during the course of this period.

'Mr Merrifield said he had had a couple of drinks but describes himself as sober.'

The prosecutor said Mr Merrifield became 'frustrated by the crying and put his head in his hands', and told Ms Lucas: 'I've had enough.'

The victim stood up, approached West's party and said: 'It's a quiet restaurant. We're trying to have a quiet dinner and your baby's not stopped crying.

'Maybe your baby is tired?'
Really dude?? Nobody in life wants to sit there and listen to you're baby wail while their trying to enjoy a meal …. GTFOH!!!
Be the first to receive breaking news alerts and more stories like this by subscribing to our mailing list.