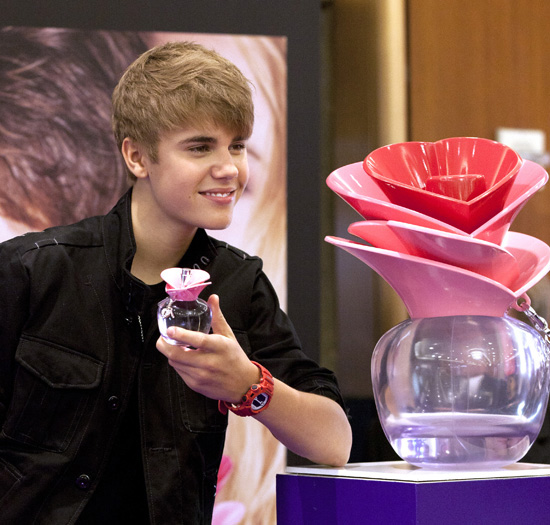 Justin Bieber had one hell of a week! After a press tour earlier in the week that included appearances on "Today Show," "The View," and "Late Night Night with Jimmy Fallon," the Pop star showed his face at Macy's Herlad Square in New York City Thursday (Jun 23), where he launched his brand new perfume "Somebody" and signed autographs for over 300 lucky fans.
But as the Biebz was making his way into the store, he deviated from the planned route to greet fans outside … and that's when the crowd went NUTS! So in an attempt to protect the singer, a man, later identified as a plainclothes cop, jumped over the barricade separating the crowd from the star.
Team Bieber then went into defense mode and grabbed the (at the time) unidentified guy, who they at first believed was a crazy fan, and pulled him away. The officer quickly identified himself and ended up citing the bodyguard who intervened for disorderly conduct.
Watch the video footage (at around the 50 second mark) from the incident below:
"One of his bodyguards failed to follow lawful order," a spokesman for the NYPD told The Hollywood Reporter. "[Bieber] was not even touched. The only person touched was the bodyguard."
Reps for the 17-year-old Pop superstar added that the incident was just a small blip in an otherwise great personal appearance, and everything was completely blown out of proportion.
"This was a momentary, well-intentioned misunderstanding that was quickly resolved," a rep for the singer said. "The event went very well."
Check out the pics of JB promoting his new perfume and posing for fans below:
Be the first to receive breaking news alerts and more stories like this by subscribing to our mailing list.