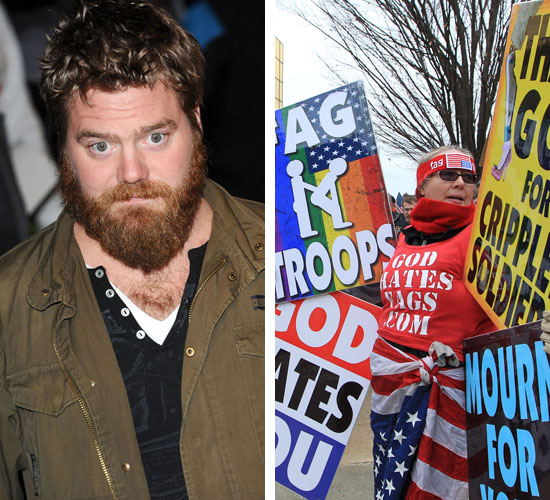 Ryan Dunn may have called himself a "Jackass" … but an independent Baptist Church from Kansas is filled with a bunch of TRUE jackasses!
Westboro Baptist Church, based out of Topeka, Kansas has announced plans (via a long, harshly worded press release) to protest at a public funeral held for Ryan Dunn, who was killed in a fatal car crash last week. In the release, titled "Ryan Dunn is in Hell!," the church states:
"In His wrath, God cut off this young man in the prime of his life, because he made a mock of sin, and taught his fellow man to grievously sin against God!"
Westboro, who is well-known for their stance against homosexuality and their protests at military funerals, also called Dunn a "drab pervert" who encouraged "porn-level filth" in order to "get rich off a perverse generation." The church, comprised of less than 100 members, claims that Dunn is now in hell because of the rambunctious roles he took on as a star of "Jackass," and they believe that his car accident was a direct punishment from God himself. And now … they want to protest at his funeral.
A private memorial was held for Dunn at a funeral home in West Chester, PA earlier this week without any issue. However, WBC says in their statement that they would "picket any public memorial/funeral held for Dunn."
Though a date has yet to be announced, a public funeral for Ryan Dunn is in the works, and the police are prepared for the threatened protest. "Our department recognizes that we have an ethical and legal imperative to uphold civil rights of those who choose to lawfully assemble to protest," West Chester Police Chief Scott Bohn told CNN, "but also of family members mourning at a funeral."
Check out Westboro's full statement below: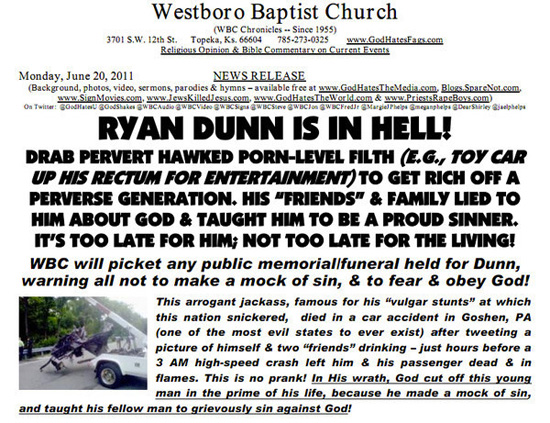 Be the first to receive breaking news alerts and more stories like this by subscribing to our mailing list.