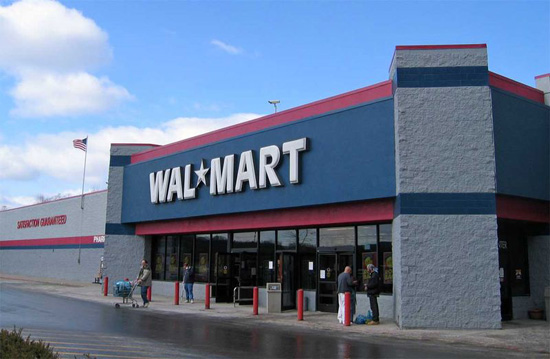 A woman who stole DVDs from a Fort Lauderdale, Florida Walmart fought with security guards before sprinting across a highway, climbing a 4-story building and jumping into 15-foot deep waters in an effort to avoid being caught shoplifting … all while carrying her 5-year-old daughter!
Police say 23-year-old Deanna Headley risked not only her own life, but the life of her daughter, during her attempt at a great escape after being confronted by a store employee for stuffing her bag full of movies she definitely did not intend to purchase.
Read more below:
Deanna Headley, 23, of Hollywood, was arrested on Tuesday after police said she dodged traffic and jumped into a lake — all while carrying her 5-year-old daughter — to avoid arrest. The daughter, who was not injured, was placed in the custody of the Department of Children & Families.

According to a Hallandale Beach police affidavit: Security officers at the Walmart at 2551 E. Hallandale Beach Blvd. watched via a surveillance camera on Tuesday afternoon as Deanna Headley stuffed about $300 worth of DVDs into a purse while her sister, Lorraine Headley, acted as a "look-out."

When security officers approached the women and child as they were leaving, the women took off. Cradling her daughter like "a football," Deanna Headley ran across six lanes of traffic on busy Hallandale Beach Boulevard.

When the security officer caught up to her, Headley struck him in the chest and went to the rooftop of a nearby apartment building, then came down and struck him in the chest again. Clutching her daughter, she dove into a 15-foot-deep lake behind the building.

Though yelling that she couldn't swim, Headley refused to hand over the little girl to police officers or the Walmart security person. Eventually, officials removed mother and daughter from the murky water. Neither was hurt.

Broward County Judge John "Jay" Hurley referred to the police affidavit in bond court on Wednesday: "It says if not for the responding police units, as well as Walmart personnel pulling you from the water…it's very likely both of you would have drowned."

"This was all over some DVDs from Walmart," Hurley said, noting that Headley also has a grand theft case pending in Palm Beach County. Deanna Headley was charged with committing a felony that could cause death, child abuse, strong arm robbery and battery.

Lorraine Headley has not been charged, but police said the investigation is not over.

Hurley ordered that Deanna Headley be held without bond. She may not have contact with her child.

Citing a history with the Headley family, DCF spokesman Mark Riordan said the girl will likely be sent to foster care.

"That child is at imminent risk and we will do anything in our power to protect her," he said.
WOW! All of that over some damn DVDS?
She needs to be fired from her job as being a mother … because she sucks at it!
Be the first to receive breaking news alerts and more stories like this by subscribing to our mailing list.