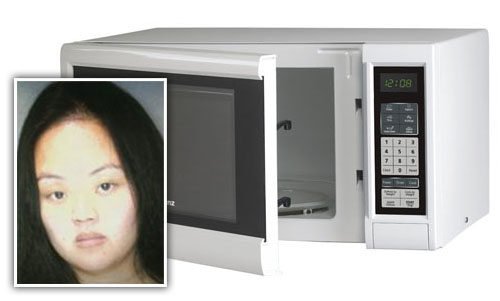 This definitely has to be one of the sickest and most disgusting things we have heard in a LONG time! A California woman was arrested Tuesday because police believe she used a microwave to burn her infant baby to death.
Ka Yang, a 29-year-old Sacramento native, originally claimed her 6-week-old daughter's March 17th death was caused by a seizure. However, after an autopsy was performed on Mirabelle Thao-Lo's body, the coroner determined that she had died from severe burns.
Following a 3-month investigation, which included consulting with forensic specialists and medical professionals, the police concluded that the young child may have died as a result of being burned in a microwave oven.
Police described the child as suffering "extensive thermal injuries." Officer Laura Peck said the arrest took so long because investigators had to pinpoint what they believe is the cause of death by looking for other cases involving similar injuries.

They found three in the U.S., all after children were burned in a microwave: in Dayton, Ohio; Galveston, Texas; and New Kent County, Virginia. "This is rare. The injuries were obviously very unique," Peck said. "There have been only three other documented cases in the entire country where the injuries were consistent with this case. … Those children were also burned and placed in the microwave."

Yang was booked into the Sacramento County Main Jail on Tuesday and charged with one count of homicide. Peck said police do not know a motive. She did not believe Yang had an attorney, and none was listed in jail records. "We wouldn't assess her mental condition. That will be up to the court system," Peck said. "The bottom line is no one knows what happened in that house but her and the little baby."

Yang has three other children, all under age 7, who were removed from the home the day their sister was found dead. They are now living with relatives.
That sick bitch! Someone needs to shove her a** in a microwave so she can know what it feels like. Make the punishment fit the crime.
Be the first to receive breaking news alerts and more stories like this by subscribing to our mailing list.