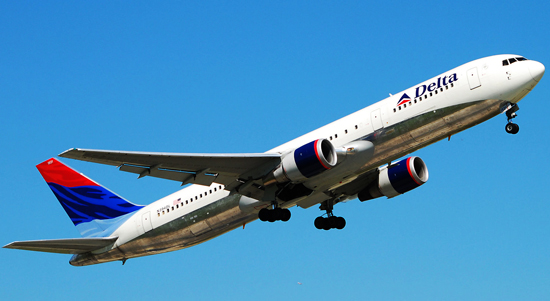 What on earth could possibly be worse than an airline losing your luggage?
Getting your luggage back covered in urine, of course. And a British guy named Sy Haze is accusing Delta Airlines of urinating all over his clothes and stealing toiletries, among other things, from his luggage.
According to the heavily worded description the London native posted alongside a video he uploaded to YouTube yesterday, his horrible experience with the American airline started on June 17th after a drugged up Delta ticket agent at London's Heathrow Airport handed him a boarding pass to Boston … instead of his intended destination Minneapolis.
Once Haze spotted the mistake, he got the airline to issue him the correct boarding pass, but unfortunately, his luggage had already been put en route to Boston.
Delta promised him that despite the error, his bags would be waiting for him in Minneapolis, however, once he landed, he was informed that his things had not only been re-routed to Boston … but once they had arrived there, they were sent BACK to London … once again, instead of Minneapolis, where Haze had planned a week-long trip.
Sounds terrible right? Well … it gets worse.
After his stuff was shipped to London, Mr. Haze called his hometown to arrange for them to send his bags back. And they did … but guess where they sent them to? We'll give you a hint. It starts with a "B."
When I arrived in Minneapolis I went to the baggage folks and they informed me my bag had been sent back to London and that I needed to call London to arrange for them to send it back the next day. They did that but on arrival in Minneapolis they promptly sent the bag on to Boston again!!

The 2 folks working on the counter at MSP thought it was hilarious, to the point that the little asian girl working there kept having to duck down beneath the counter to try and hide her laughter!
After a 4-day ordeal, Sy's bags finally arrived in Minneapolis and he thought everything was all good. Until he opened the bag and found out his clothes had been pissed on and some of his things were missing.
My bag finally arrived in Minneapolis today (June 21st), a full 4 days after it was initially checked in! The bag was delivered to my hotel this morning – happy days thought I….until I opened it up and found what you see in the vid. The vid really doesnt do it justice as you cannot smell the stench of urine thru the lens.

So far Delta Airlines have been either uncontactable at Minneapolis or rude and dismissive and insistent that only their permanently engaged toll free number can help. Currently I am awaiting a response from them as to what is to be done. I am now going to have to go shopping for new clothes and so forth. Needless to say I WILL NEVER FLY DELTA AIRLINES EVER AGAIN.
With over 160,000 views on YouTube, Sy Haze's video has become a viral hit. So viral, in fact, that Delta bent over backwards to sort the issue out, after originally ignoring his complaints. According to an update Haze added to his viral video's description, Delta Airlines has offered him first class flights back to the UK.
Thanks … but no thanks. Piss in my luggage once, shame on you. And you know where you can shove those first class tickets.
But really, who goes around using people's bags as toilets and stealing their aftershave? A dog maybe? Hopefully. We hope HUMANS aren't going around peeing in people's luggage.
That's just nasty.
Your thoughts???
Be the first to receive breaking news alerts and more stories like this by subscribing to our mailing list.