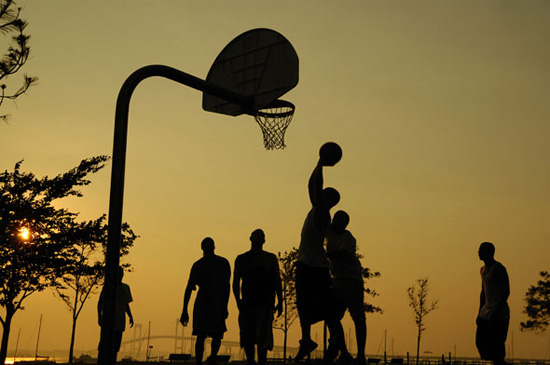 We thought this only happened in the movies…..
Michigan police are looking for two men who allegedly pulled out a gun on a 7-year-old and-13 year-old after being beat in a pickup basketball game.
Read more below:
Police are seeking tips after they say two overweight older teens threatened two boys with a gun when they beat the older players during a pickup basketball game at a Ferndale park.

The younger players, 7 and 13, told police the older teens weigh about 300 pounds each and they beat them in a game which ended about 5:20 p.m. Monday when an argument broke out.

"There was a lot of swearing back and forth," said Ferndale Police Lt. William Wilson. "The two victims began to walk away down Wolcott Street when the assault happened."

Police said the younger boys were walking along the street near Harding Park when the assailants pulled up in a light blue car, possibly a 2003 Mercury Gran Marquis.

"The passenger held out a black and silver handgun and said, 'What do you think now?' " Wilson said. "The vehicle then took off on Wolcott and turned on Woodward Heights."

The boys, both Ferndale residents, called police from a cell phone after the car drove off.

The assailants are described as black, about 18 years old, with each about 6 feet tall and 300 pounds. Both had very short dark hair.

The gunman was wearing a red shirt and khaki shorts. The driver of the car wore a black and white Nike shirt and black shorts, police said.
WOW …. Way to be true sore losers!
Be the first to receive breaking news alerts and more stories like this by subscribing to our mailing list.