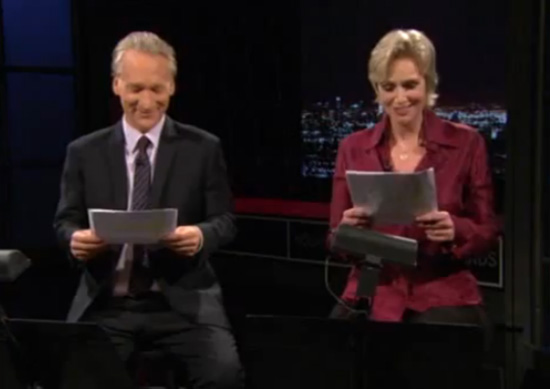 Ever since U.S. Representative Anthony Weiner got caught sexting random women, he has been the butt of many jokes, especially from bloggers, news reporters and comedians. And on a recent episode of Bill Maher's "Real Time with Bill Maher" show on HBO, the political funnyman got a little help from "Glee" actress Jane Lynch as the two read a dramatic reading of Anthony Weiner talking about his … "weiner" … among other things, in a series of text messages.
All of the dirty, profanity-filled messages were read VERBATIM (word-for-word), and a few highlights from Weiner's sexting mate included "I want to bang the future mayor of New York City" and "You get your a** to work and save my country from these c**k sucking Republicans," which was followed by this response from Weiner: "I like it when you talk about c— sucking."
Funny stuff! Peep the (NSFW) video footage below:
Be the first to receive breaking news alerts and more stories like this by subscribing to our mailing list.