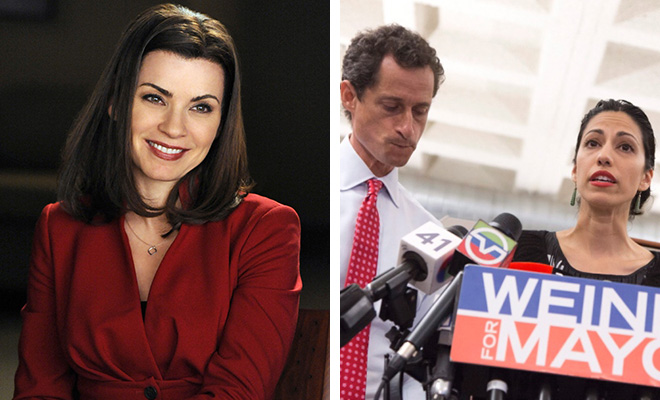 It's not surprising that the Anthony Weiner scandal has shocked the nation. The former congressman has become a laughing stock, with pretty much everyone and their mother weighing in on whether or not the NYC mayoral candidate should step out of the limelight and hang his head in shame.
The only topic people seem to like discussing almost as much as Weiner is his wife Huma Abedin, who has stood by her husband through it all. So naturally, PEOPLE asked "The Good Wife" star Julianna Margulies about it. While celebrities are known for giving their opinions on topics that have nothing to do with them, Marguiles has an excuse.
"The Good Wife" is inspired by the Eliot Spitzer scandal and features the actress as a lawyer named Alicia Florrick, who is humiliated when her husband's (Chris Noth) affair becomes public.
With her character "loosely based" on Silda and other political wives who have stood by their husbands, Margulies says, "The headlines are now imitating us because both of these politicians – Spitzer and Weiner – have gotten back into the game of politics. And now newspapers are saying, 'Huma, take some advice from Alicia Florrick. Go back to work, don't read the papers.' "

But having played Alicia for so long on the show – the fifth season premieres Sept. 29 – the actress, says, "I have no judgment."

"Every woman has to do what feels best for her in that moment," she continues, "and I don't think anyone in that moment knows what the best situation to do is. I think it's called survival."

Adds Margulies, "Watching Huma [Abedin] on the podium, standing there next to her husband and saying she was going to stand by her man, I only had compassion and empathy for her, and felt like none of us know what she's going to do yet."
Be the first to receive breaking news alerts and more stories like this by subscribing to our mailing list.