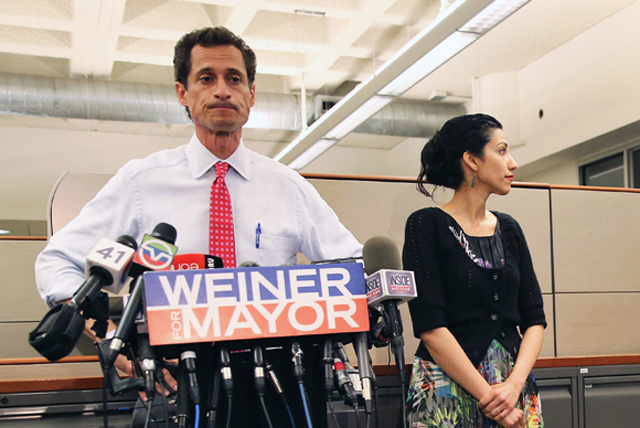 What is it with politicians and sex scandals? Why can't they ever just keep it in their pants, call it a day and save themselves (and their families) the heartache?
Anthony Weiner, who is currently running for mayor of New York City, at one point in 2011 got caught in an embarrassing sexting scandal in which he dirty talked with women on social media and sent them inappropriate images. The scandal, you'll recall, was so explosive that he was forced to resign from Congress.
He recently emerged claiming to have been completely rehabilitated from his sexting ways, but it turns out … that was a LIE.
In the summer of 2012, after Weiner claimed to have ditched his sexting ways, he began reaching out to women under the pseudonym Carlos Danger. Something tells me this is also a stripper name he's been saving for himself since his college days. Magic Mike 2 is casting, Weiner might could make a cameo. Just saying.
TheDirty.com broke the news and they have screenshots of his convo with an anonymous woman (NOTE: BuzzFeed claims her name is Sydney Leathers), and they also have a blurred picture of his penis.
Faced with yet another sexting scandal, Weiner and his mayoral campaign tried to head off the backlash with a press conference that he hoped would put him ahead of the story. He apologized profusely and attempted to spin the behavior as solidly in the past, and he upped the ante by trotting out his poor wife, Huma Abedin, as a character witness.
"I said that other texts and photos were likely to come out, and today they have," said Mr. Weiner in a statement from his campaign spokeswoman. "As I have said in the past, these things that I did were wrong and hurtful to my wife and caused us to go through challenges in our marriage that extended past my resignation from Congress."

"While some things that have been posted today are true and some are not, there is no question that what I did was wrong. This behavior is behind me," he added. "I've apologized to Huma and am grateful that she has worked through these issues with me and for her forgiveness. I want to again say that I am very sorry to anyone who was on the receiving end of these messages and the disruption that this has caused. As my wife and I have said, we are focused on moving forward."
WATCH ANTHONY WEINER AND HIS WIFE ADDRESS THE MEDIA
Maybe Anthony Weiner needs to ditch politics and get a job in the adult film industry. He's clearly a lifelong exhibitionist and there's putting that *ahem* genie back in its bottle.
Be the first to receive breaking news alerts and more stories like this by subscribing to our mailing list.