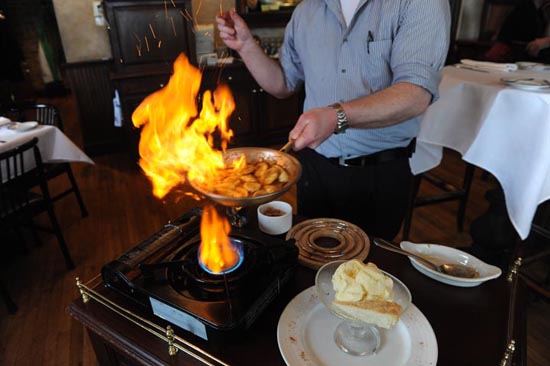 Four people will never be able to look at an ice cream sundae the same way ever again…
Four recent patrons of Palm Harbor, Florida's Ozona Blue Grill are currently in the hospital recovering from burns they suffered when a flaming dessert exploded at the restaurant, according to recent reports.
The incident occurred around 7 pm Saturday at the Ozona Blue Grilling Co. restaurant in Palm Harbor, Fla., about 27 miles (43 kilometers) northwest of Tampa.

A server who was preparing Bananas Foster — a flaming dessert that includes bananas, ice cream, rum and banana liqueur — used too much alcohol when making the dish, prompting the explosion, Palm Harbor Fire and Rescue spokesperson Liz Monforti said.

An off-duty firefighter was at the restaurant at the time of the explosion and provided care for the four people who were injured until fire officials arrived on the scene.

Two of the burned patrons were flown to a Tampa hospital for treatment, and two others were treated at the restaurant. Their conditions were not known Sunday morning.
Wow, that's just pure craziness. But four people are also about to come up on some good money too! Check this out:
Bananas Foster is one of the original dessert dishes traditionally made tableside in fancy restaurants during the last half of the 20th century. It is still one of the most popular desserts in fine-dining restaurants. And it is one of the easiest ways to awe your friends at home.

A few things you might want to think about before starting to make your own Bananas Foster:

First, decide whether the theatrics of flaming a dish is worth the risk for your audience. If you are out to impress people, make sure you are really prepared to flame the dish, and keep a fire extinguisher ready in case there's trouble. Also, remember to measure your rum and liqueurs into small containers. Don't pour alcohol directly from a bottle onto a hot flame or dish. (It will explode and create serious trouble!)

– Recipe for "Bananas Foster"
Doesn't sound like that last line was followed, SMH…