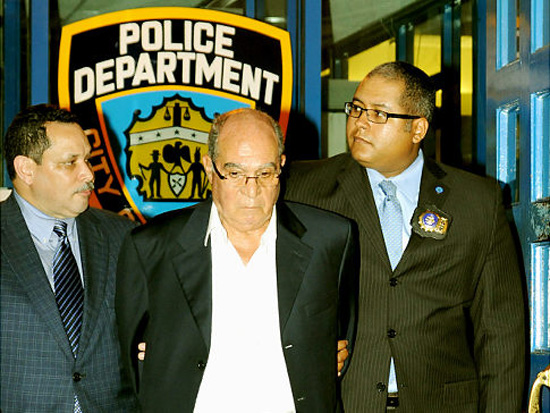 This is deja vu all over again!
The hotel maid allegedly groped by an Egyptian businessman, immediately reported it to a supervisor but was told to wait a day to speak to security, sources said Tuesday. The supervisor's decision explains why Sunday night's alleged assault was not reported to police until Monday morning.

Mahmoud Abdel-Salam Omar, 74, the former head of the Bank of Alexandria and now chairman of a leading Middle Eastern salt company, is accused of locking the 44-year-old maid inside his $900-a-night room at The Pierre on Sunday. Channeling his inner Dominique Strauss-Kahn, Omar called for room service requesting tissues and answered the door in his pajamas, police sources said.

When the maid – whom he had not specifically asked for – arrived at his 10th-floor room, he asked her to put the box of tissues on a table, sources said. As she moved toward the table, he locked the door.
"He locked her in the room and had her trapped," a police source said. "He grabbed her breasts, groped her. He was grinding against her."

Omar then asked the maid for her phone number, a police source said. After she gave him a made-up number he let go, and she fled the room. The incident happened about 6 p.m. on Sunday but was not reported to police until Monday morning.

In a statement Monday night, hotel management said they made the safety "of our guests and staff," a priority. "We take all complaints very seriously and investigate thoroughly. This incident has been formally reported to the New York Police Department and is under investigation. We will fully comply with the investigation as requested," the statement read.

Despite the delay, investigators believe the woman's story. "Experienced NYPD detectives found the complainant to be credible," said Paul Browne, the NYPD's top spokesman.

Omar was arrested at the hotel Monday afternoon and charged with sexual abuse, unlawful imprisonment, forcible touching and harassment, officials said. The financier paused briefly as he was led out of the 19th Precinct stationhouse early Tuesday and stared mutely at reporters with a stunned expression.

"He's an old man," said a friend who tried to visit Omar in the police station but was turned away. "He's a good man and also a grandfather."
Don't these nasty old men have anything better to do??? Pervs!!!
Be the first to receive breaking news alerts and more stories like this by subscribing to our mailing list.