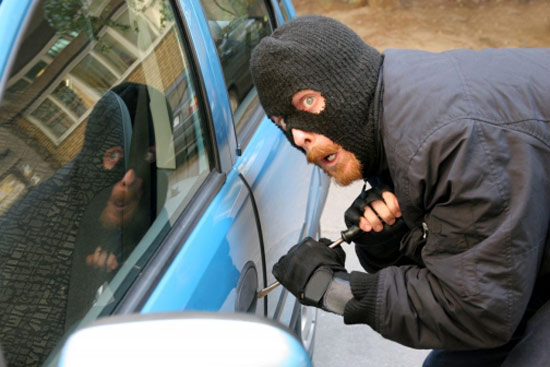 When stealing a car from an employee at a tire company goes HORRIBLY wrong.
An Iowa man was recently hit by his own car after a thief attempted to steal it while he was at work. Surprisingly, the guy somehow still managed to catch up with the robber on foot and put him in a choke hold. (Now that's what you call determination!)
Read more below:
A tire store employee was hit with his own car when he tried to stop someone from stealing it over the weekend — but despite an injured leg, he ran the car down on foot and took the suspect into custody.

Timothy Ray is still sore, but he managed to return to work Monday.

"Yeah, he hit me with my own car," said Ray, 36. "I tried to stop him, but he clipped me pretty good. He got me in the knee, and I rolled my ankle."

The impact threw Ray back into the side of the tire store.

Ray works at Graham Tire and was on duty early Saturday afternoon when someone noticed a man going through cars at some nearby businesses. By the time Ray was aware that someone was going through his Buick in the tire store parking lot, the man was starting it with keys he'd found under the seat.

Ray, who was about 30 feet away when the culprit started the car and drove off, tried to stop him.

After hitting Ray with the stolen car, the driver hit a fence, a utility pole and the building, and then he drove off, snapping another utility pole. Shortly thereafter, the driver crashed into a parked car.

Despite his injuries, Ray was running behind his stolen car, and he caught up with the driver . His car was totaled. Ray took the thief to the ground and put him in a headlock and choke hold.

Store manager Jeff Chapman was right behind Ray and helped sit on the suspect until police arrived.

Robert Noah Reynolds, 18, of West Des Moines, Iowa, is charged with first-degree theft, interference with official acts, assault with intent to inflict serious injury and six counts of hit-and-run. He was in the Polk County Jail on Monday, held on $21,300 bond.

Chapman said the alleged car thief "seemed to have lost his mind."

"He caused a lot of destruction in a short amount of time," Chapman said.
We bet that dumba** car jacker think twice next time before trying to steal somebody else's car!
Be the first to receive breaking news alerts and more stories like this by subscribing to our mailing list.