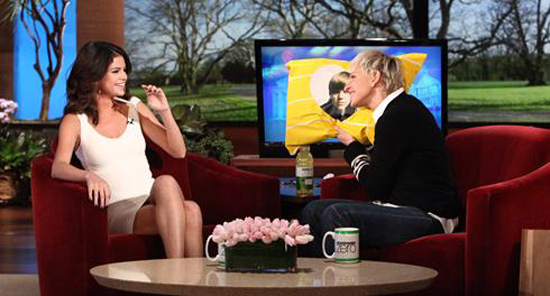 Selena Gomez must be blushing all kinds of red from embarrassment after appearing on a recent taping of the Ellen DeGeneres Show. Never the one to be lied to by the stars, DeGeneres showed Gomez a clip of a previous appearance on her show where the tween actress stated that Justin Bieber was no more than a little brother to her when asked if they were dating:
"He's little. He's like my little brother. That's weird to me."
After Ellen showed Selena the clip, she shamefully bowed her head and laughed.
"Don't take me to jail," she pleads.

Says Ellen, "Well, you were trying to hide it still, right? But now you've made it public. Now, you went to the Vanity Fair party and made me a fool."

Selena (laughing): "No, I really didn't."

Ellen: "Yes you did!!"

Selena: "I promise you I didn't. He's just sweet."

Ellen: "He is. He's sweet as can be. But he's not like your little brother, is he? No, he's not. And he's a fantastic guy. You can't try to hide that forever. I know you all were sneaking around, but that's crazy. You're both huge stars and you can't hide from us."

Selena: "I didn't lie to you. I didn't though. I'll say that."

Ellen: "No, you didn't blatantly lie. A little brother is not someone you want to date."

Selena: "Well, no. That would be weird."

Ellen: "That would be wrong and weird in so many ways."
Ellen then presented Selena with a peace offering: acute pillow with Justin's face on it to snuggle with while she's on tour. So it looks like all is well between the two now!
Your thoughts?
Be the first to receive breaking news alerts and more stories like this by subscribing to our mailing list.