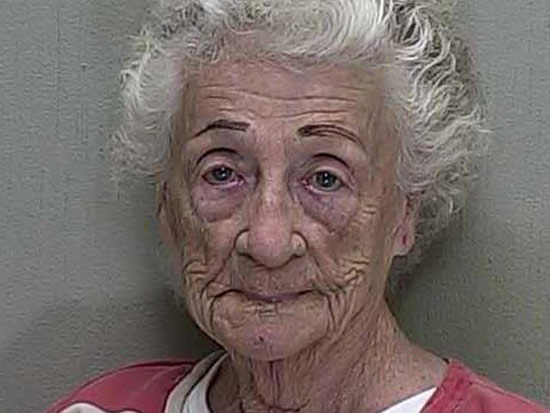 When not getting any action for a long time goes wrong….
This 92-year-old lady shot up a man's house after he refused to give her a goodbye kiss.
Police said 53-year-old Dwight Bettner told neighbor Helen Staudinger, 92, to leave his home. She said she would only leave if he kissed her, but left angry when the man refused, telling her "get your [expletive] out my house."

"She appeared to have the impression that there was a relationship between them," police said in an arrest report.

The man told police investigators that he was talking on the phone in his bedroom when Staudinger fired the first in a series of shots from a handgun.

"The defendant said she came home, got her gun, and went back to shoot his car that he loved so much," the police report said.

Police said Staudinger fired from her property and aimed at the victim's carport, but hit the house four times instead.

The man said that despite him telling Staudinger that he is in a relationship, she insists he is "supposed to be her man."

The victim told detectives that Staudinger threatened to shoot him when he told her about his girlfriend.

"The victim advised that he has had ongoing issues with Ms. Straudinger and feels that she is enamored with him," police said in the report.

Police said the victim was not hurt in the shooting, but that one bullet missed him by "mere inches."

Staudinger faces charges for firing shots into a home. She was arrested and booked into the Marion County Jail on Monday evening.
We've never heard of anything like this before….granny must have really wanted that kiss! (LOL)
Be the first to receive breaking news alerts and more stories like this by subscribing to our mailing list.