An earthquake measuring an 8.9 on the Richter scale struck northern Japan this past Friday (Mar 11), triggering tsunamis that sent a massive wave filled with boats and houses toward land. Towns in the country's northeast coast were literally wiped away by the tsunami, leaving countless people seeking shelter in the aftermath of the quake, which was the country's strongest recorded quake.
In the photo gallery that follows, you can see just how much damage these two terrible natural disasters did to Japan. Look below for the heart-wrenching photos: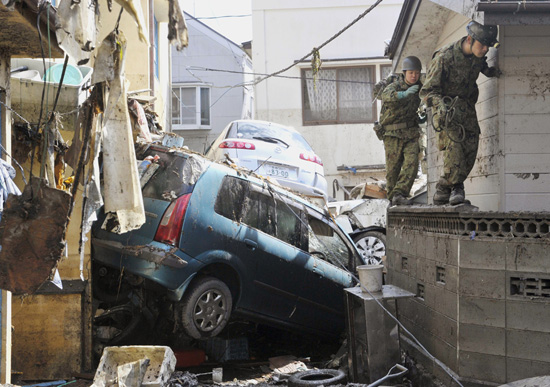 30 more photos are below…
Below are 8 ways Americans can help victims of the earthquake in Jappan (via Yahoo):
1. The American Red Cross has sent squads to the most heavily damaged areas of Japan to provide assistance. Cell phone users may donate $10 per message by texting REDCROSS to 90999.
2. AmeriCares is dispatching teams to Japan to offer disaster relief. Online donations are accepted on the AmeriCares website.
3. Convoy of Hope is accepting gifts online or by cell phone. Text TSUNAMI to 50555 to donate to this faith-based group, working with in-country partners to meet earthquake victims' needs.
4. Doctors Without Borders, or Medecins Sans Frontieres, is sending trained medical personnel into the worst hit areas. Online donations are encouraged.
5. Global Giving is raising funds to fund disaster relief efforts of such groups as International Medical Corps and Save the Children. Text JAPAN to 50555 to donate $10 towards emergency response.
6. The International Medical Corps offers health care and supplies for earthquake relief. Text MED to 80888, or visit the Emergency Response Efforts fund online to donate.
7. The Salvation Army is collecting donations to assist in Japan and Hawaii. Givers may donate online or text QUAKE to 80888 to give $10 per message.
8. Save the Children has established a Japan Earthquake Tsunami Children in Emergency Fund, collecting online donations to serve those affected by the earthquake and its aftermath.
Many additional humanitarian groups are poised to help. Donors are urged to check financial accountability standards of all charities before making gifts, to ensure monies will be appropriated as intended.
Be the first to receive breaking news alerts and more stories like this by subscribing to our mailing list.