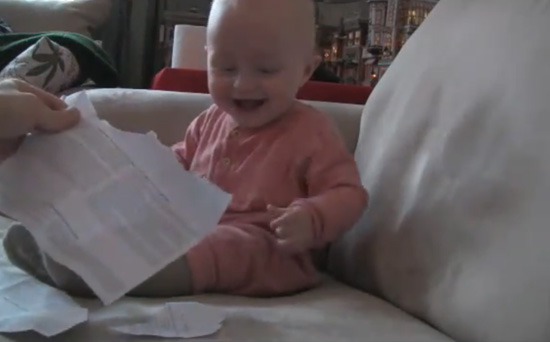 A cute, little baby videotaped laughing hysterically as her father rips up paper is now famous thanks to a certain pregnant actress named Alyssa Milano!
According to reports, baby Micah's laugh attack was sparked by her dad's response to a job rejection letter. Upon receipt of the recent rejection letter, Micah's father, Marcus McArthur, ripped it in half, which was apparently very funny to baby Micah. So McArthur grabbed his camera, recorded the hilarious laughing fit, uploaded it to YouTube … and here we are nearly 6 million views later.
Peep the footage (and some details) below:
According to KSDK-TV in St. Louis, Mo., McArthur is wrapping up doctoral work at St. Louis University and seeking work as a professor. He told the news station that upon receipt of a recent rejection letter, he ripped it in half. Baby Micah then retorted with fits of giggles. McArthur found the baby's peals of laughter infectious, so he grabbed his camera and started shredding more paper.

He then posted the resulting clip to video-sharing website YouTube. MacArthur told KSDK he uploaded the video about five weeks ago, but it went viral after actress Alyssa Milano shared it with her Twitter followers on Feb. 25, he said.

In her tweet, Milano said, "If this video doesn't make you smile, check your pulse." (Source)
Alyssa Milano was right! We've seen lots of "laughing baby" videos but this one here was just too funny!!!
Your thoughts?
Be the first to receive breaking news alerts and more stories like this by subscribing to our mailing list.