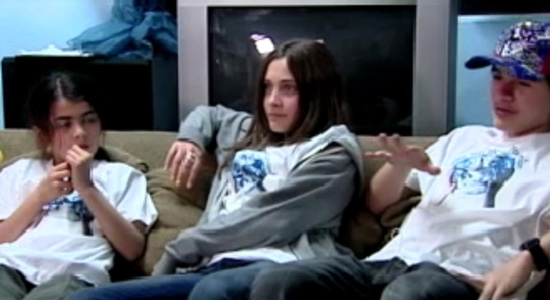 Michael Jackson created somewhat of a legacy in showbiz and with his charity work, and now his kids say they want to continue what their father started.
Prince (14), Paris (12) and Blanket Jackson (9) sat down with "Good Morning America" host Robin Roberts in an interview that aired Friday (Feb 25) where they spoke candidly about how much their lives have changed since losing their father nearly 2 years ago.
The three children, who have been attending a traditional school since their father's death, after being homeschooled for years, are much like any other children, cracking jokes, texting and playing with toys throughout the segment. When prompted to disclose their favorite subjects in school, Prince answers, "Gym and lunch," to which his sister responds, "Amen!"

While their interests are that of any other kids their age, their father's love of the stage seems to have rubbed off on them. Paris tells Roberts that she wants to be an actress and hopes to achieve her goal like any other kid: by auditioning for a school play. Prince, a "beast" at basketball as his sister describes him, says he also hopes to go into the entertainment business as a movie producer. "We had a teacher from UCLA come to our house, and we would do film classes there," he says of the inspiration behind his goal, fostered by his father.

The Jackson children hope to do more than just entertain the world, though; they want to make it a better place. "[We want to] continue what our dad was doing, helping children from across the world and animals who couldn't speak up for themselves," says Prince. "Ditto," echoes his sister.

Source: Pop Eater
Be the first to receive breaking news alerts and more stories like this by subscribing to our mailing list.