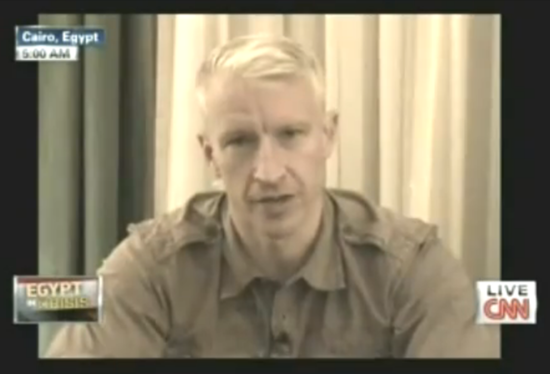 Anderson Cooper was attacked for the SECOND time this week while covering the civil war-like situation that is happening right now in Cairo Egypt.
The CNN reporter was attacked by a mob of protestors Wednesday (Feb 2) as he and his crew were trying to find a neutral zone between the two fightings groups. And the VERY NEXT DAY, Cooper's life was put in danger once again as a vehicle he was in was attacked. Thursday (Feb 3), Cooper tweeted:
"The situation on ground in #egypt very tense. Vehicle I was in attacked. My window smashed. All ok."
Now, things have gotten so bad that the reporter, in fear of his on safety, has gone underground to an "undisclosed location" for the time being. In an interview Piers Morgan late Thursday night, Cooper also revealed that it's near impossible to capture the happenings on camera right now because of threats, intimidations and actual physical attacks.
"We'd like to be showing you live pictures of what's happening in Liberation Square right now," Cooper said. "But we can't do that because our cameras have been taken down through threats, through intimidations, through actual physical attacks, there are no live cameras that we can get access to right now."
Despite the violence, Cooper noted that CNN still has "eyes on what's happening" on the ground. He also admitted to fearing for his life right now.
"I don't mind telling you I'm a little bit scared because we don't really know what the next few hours will hold and I think there's a lot of people tonight who are scared in Egypt. I think there are people in that square who are fighting for their lives and understandably so because this is the second night of a full-on assault on them and they have been defending themselves for their lives."
After Anderson Cooper was attacked the first time, CNN urged him to leave immediately as they could no longer guarantee his security. But according to our friends over at Pop Eater, the popular correspondent told them "no way" because this is the biggest story on the planet right now, and he's not missing out on reporting on it.
"What people [may forget] about Anderson is that he is a real reporter. Some dismiss him as a pretty face and nothing else, but that isn't the case. He's the real deal," a network insider tells Rob Shuter of PopEater.com. "Anderson's passion is for news. When a story breaks his first instinct is to jump on a plane with a camera and to document the real story. Other network hosts talk the talk from their luxury studios, but Anderson is on the ground."
Stay safe Andy!!
Your thoughts?
Be the first to receive breaking news alerts and more stories like this by subscribing to our mailing list.