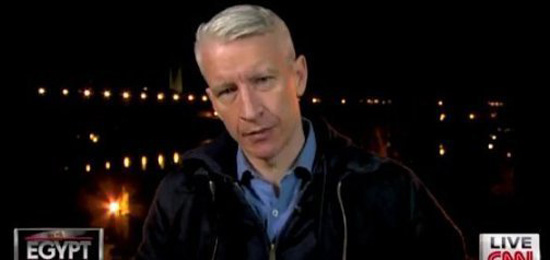 CNN correspondent Anderson Cooper and his crew were attacked by a mob Wednesday (Feb 2) while covering the crazy situation going down in Egypt right now.
According to the Huffington Post (via a tweet from CNN's Steve Brusk), as Anderson Cooper was trying to find a neutral zone in the capital city of Cairo between the two fighting groups (supporters of Egyptian President Mubarak and protestors against the president), he and his team were ambushed, and Cooper himself was punched in the head 10 times by Mubarak supporters
"We never got that far," Cooper said after the attack. "We were set upon by pro-Mubarak supporters punching us in the head." Cooper said that he and the crew tried to escape, but that the crowd only grew: "the crowd kept growing, kept throwing punches, kicks…suddenly a young man would look at you and punch you in the face."
Check out the video footage below…
WOW! Sh*t is getting REAL out there in Egypt. Andy and his team better watch their backs!!!
Your thoughts?
Be the first to receive breaking news alerts and more stories like this by subscribing to our mailing list.