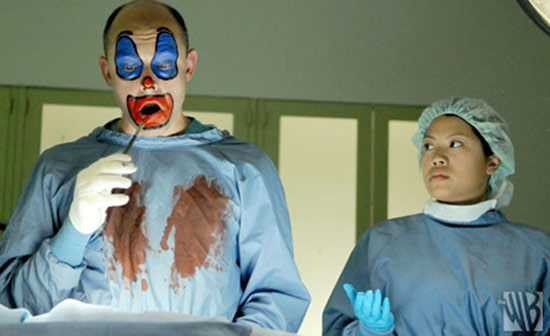 It appears that clowns do have a purpose in life after all!!!
Read more below:
Women who have tried everything to get pregnant may have one more option: A medical clown. Seriously.

A study of 229 Israeli women undergoing in-vitro fertilization (IVF) to treat infertility received 15-minute visit from a trained "medical clown" immediately after the embryos were implanted.  The success rate ballooned to 36%, compared with 20% for women who weren't given the silly treatment. The goal of the study was to see if reduced stress, caused by laughter, could increase the chance of that the injected embryo will successfully make its way into the womb.

Afraid of clowns?  Other treatments, including acupuncture have lead to positive results for women undergoing IVF. You can't become a medical clown just from attending your local clown college.  The University of Haifa in Israel is the only school in the world that actually awards a degree in hospital jokery. These professional funnymen, who have taken courses in nursing, have made strides in Israeli children's wards by helping young patient communicate their pain and distract them from their suffering.
Wow…. We knew "clowns" (i.e. fools) were going around getting woman pregnant, but not these types of clowns. Who would have ever known???
Your thoughts?
Be the first to receive breaking news alerts and more stories like this by subscribing to our mailing list.