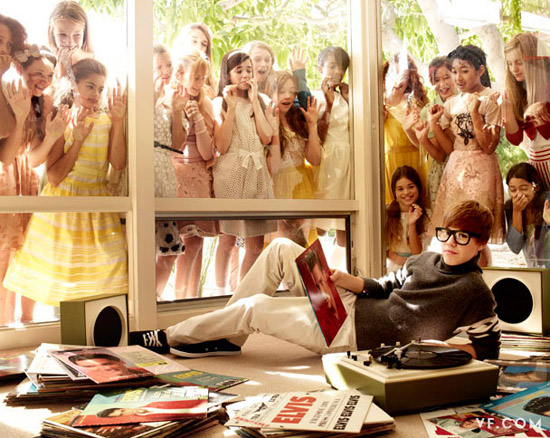 16-year-old Pop superstar Justin Bieber is featured on the cover of the February 2011 issue of Vanity Fair Magazine, and here are a few outtakes from his photo shoot!
With 17 screaming fans cast as extras, this truly was the photo shoot heard 'round the world (or, most certainly, Beverly Hills). Justin Bieber came to our Los Angeles set donning hipster glasses and an infectious smile; the night before, he'd had dinner at the Smiths' residence, where man of the house Will Smith told him his Vanity Fair cover would be a huge game-changer. Despite a jam-packed schedule, the Biebs arrived to the Art Streiber shoot early and took the crew lunch break to walk the red carpet at the Megamind premiere, posing with Will Ferrell, after which he returned to be photographed with a group of prepubescent extras—all huge fans in real life, of course. We are charmed by his voice (yes, he sang on set) and his incredible work ethic. (Source)
Click on EACH thumbnail below for more details on JB's Vanity Fair feature…
Be the first to receive breaking news alerts and more stories like this by subscribing to our mailing list.