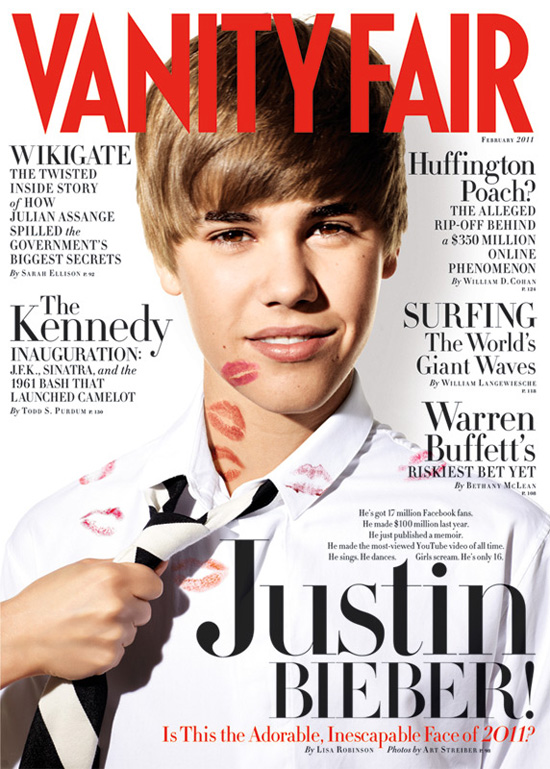 Justin Bieber shows off a collar covered in kiss marks on the cover of the February 2011 issue of Vanity Fair Magazine. Inside the pages of the mag, the 16-year-old Pop star speaks on his influences, balancing his career and being a teenager, his future and more.
Check out a few excerpts from new the issue below!!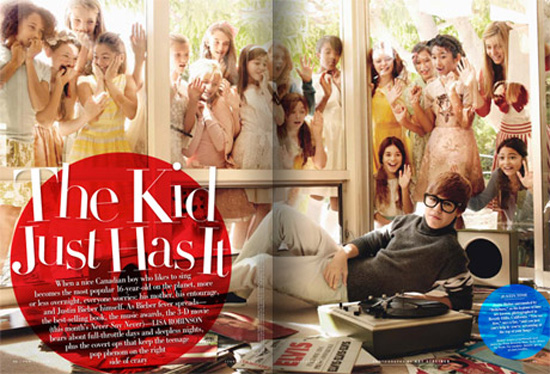 On him embracing his craziness:
"I'm crazy, I'm nuts. Just the way my brain works. I'm not normal. I think differently—my mind is always racing. I'm just … nuts. But I think the best [musicians] probably are."

On his musical influences:
"Music is music, and I'm definitely influenced by Michael Jackson and Boyz II Men and people who were black artists—that's what I like. But I like their voices and I like how they entertain—it's not about what color they are. Michael was able to reach audiences from young to old; he never limited himself. He was so broad, everybody loved him, and that's what my goal is—to basically make people happy, to inspire them, and to have everyone root for me."

On balancing being a pop star and a teenager:
"It's hard to really balance myself. A regular kid, if he catches the flu, he just gets to go home. But I can't do that…. Everything is important. But, you know, my sanity is important, too. Even if I'm angry, I'll just put a smile on my face and fake it. I don't often fake it—what's me is me….I know I have to give up a lot of myself, or a lot of a private life."

On him suffering from insomnia:
"I just turn over all night and think. My mind races. I think about all the things I didn't have time to think about during the day—like family and God and things that should be more important but you don't have time to think about, because you just get caught up [in everything else] during the day."

On his future:
"I see myself just growing. I didn't know that any of this was really possible. I grew up in a really small town with not a lot of money, and I liked singing, but it was just something that was a hobby. As I get into it more, I want to grow as an artist, as an entertainer, and basically perfect my craft. I want to be the best that I can be."

Source: Vanity Fair
Your thoughts?
Be the first to receive breaking news alerts and more stories like this by subscribing to our mailing list.