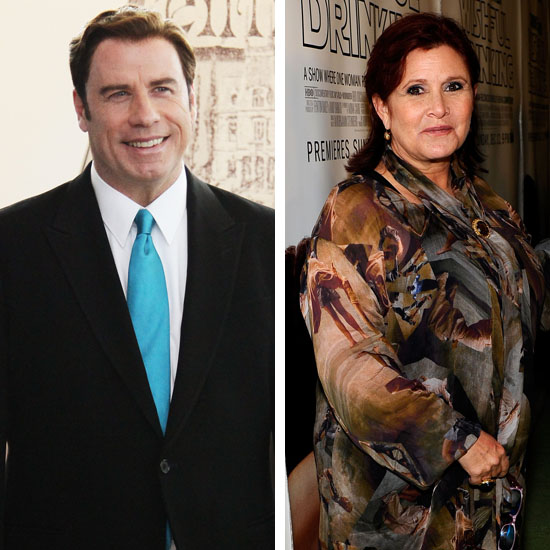 Carrie Fisher has outed John Travolta, claiming that the actor is gay!
When asked about her old "friend" in a recent interview with Advocate Magazine, the "Star Wars" actress said:
"Wow! I mean, my feeling about John has always been that we know and we don't care. Look, I'm sorry that he's uncomfortable with it, and that's all I can say. It only draws more attention to it when you make that kind of legal fuss. Just leave it be."
An author by the name of Robert Randolph alleges that Travolta cheated on his wife Kelly Preston with several men.
Randolph, who has written a series of new books about gay culture in Hollywood, said that he actually WITNESSED the "Grease" star (who he calls a "sex addict") having gay sex in L.A. steam rooms, locker rooms, spas, etc. And ever since his revelation, he says he has been receiving e-mails left and right from other men who claim to have had sex with the actor, who recently had a baby with his wife Kelly Preston.
"I have no doubt that John Travolta is a sex addict. I've heard from many men who have either had gay sex with John or saw him having gay sex in health spas, steam rooms, locker rooms, you name it," Randolph told hte National Enquirer. I've gotten so many emails that I'm writing a second book titled Tracking Travolta and I've got plenty of material."
WHOA! JT's gonna have to do some serious damage control because this sh*t is spreading like wildfire. Either that, or officially come out, write a book about it and then do a reality show or something.
What do you think?
Be the first to receive breaking news alerts and more stories like this by subscribing to our mailing list.