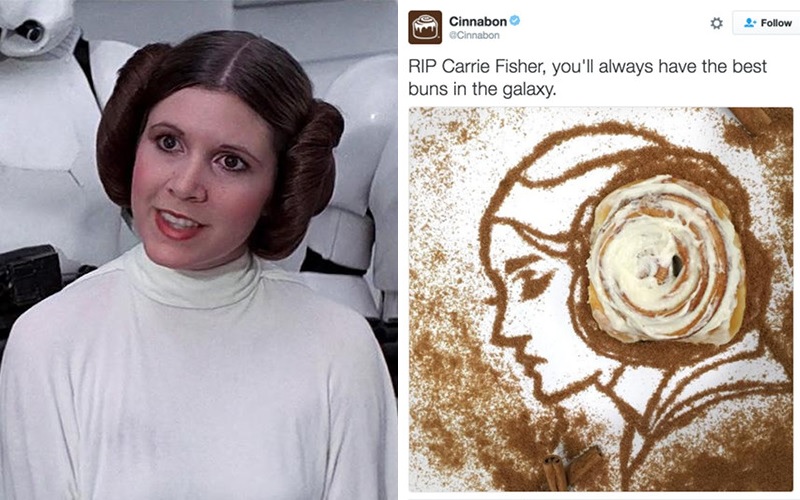 Tributes in honor of Carrie Fisher have poured in since her Tuesday (Dec. 27) passing. Many have honored the Star Wars actress by incorporating her iconic Princess Leia hairstyle. However, Cinnabon is currently under fire for its somewhat ill-conceived tweet.
The unique Princess Leia hairstyle has often been compared to cinnamon buns. So, it's fitting for Cinnabon to offer its condolences to the actress' family.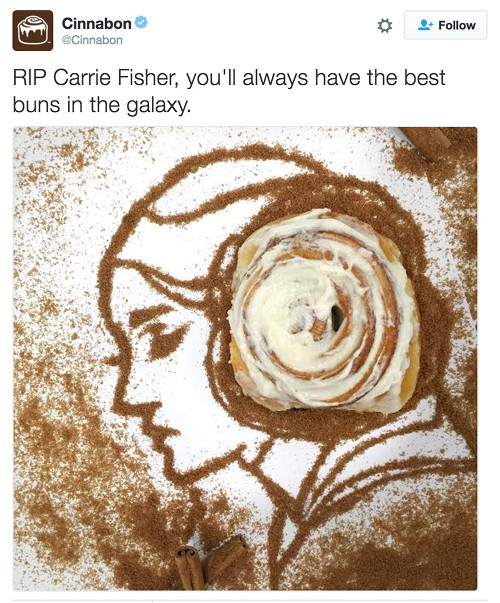 Using a Princess Leia image created out of cinnamon and an actual Cinnabon, the company tweeted "RIP Carrie Fisher, you'll always have the best buns in the galaxy."
Though I personally don't find the tweet too problematic, understandably, many found the tweet insensitive and felt Cinnabon was using Fisher's death as a promotional tool.
Tacky. Get over yourself and stop capitalizing on the tragic loss of an icon.. #Objectification

— Julie Alexandria (@JulieAlexandria) December 27, 2016
off, you must log @Cinnabon pic.twitter.com/gJxpGBtscs

— adrian crawford (@Crawf33) December 27, 2016
Wow, what poor taste you have RT @Cinnabon: RIP Carrie Fisher, you'll always have the best buns in the galaxy. https://t.co/DYvEcW6gAb

— Rihanna's Twerk Wind (@_sarah_smile) December 27, 2016
And the award for "Most Tasteless Brand Reaction To A Celebrity Death" goes to @Cinnabon. #fox5dc pic.twitter.com/XCraFJTZX2

— Jim Lokay FOX 5 (@LokayFOX5) December 27, 2016
Hey social media friends, I've got an early tip on a job opening at Cinnabon. pic.twitter.com/C8cAmJhkst

— Alan Bush (@alanbush) December 27, 2016
Cinnabon has since deleted the tweet and offered an apology.
Our deleted tweet was genuinely meant as a tribute, but we shouldn't have posted it. We are truly sorry.

— Cinnabon (@Cinnabon) December 28, 2016
Some Twitter users and Fisher fans liked Cinnabon's tribute and defended the company after it deleted the tweet.
hot take: I'm think Carrie would like the Cinnabon tweet

— d?ní?l j?n?s ? (@teamdanjones) December 27, 2016
Hey @Cinnabon
You depicted what we all had thought for 40 years. I salute your tribute to the actress with a warped sense of humor

— ?? Pat Ellis ? (@pattywayne) December 28, 2016
@Cinnabon I didn't know her personally, but based on her sense of humor, I think that she would have loved your tribute!

— Eric Graydon (@1leggedpuppy) December 28, 2016
@Cinnabon the tweet tribute to @carrieffisher was great and should have not been deleted she would have loved it

— Dyllan Carmona (@DyllanCarmona) December 28, 2016
@Cinnabon Nothing wrong w/ your tribute of Carrie Fisher. Sorry the world is so offended by EVERYTHING

— Tee Riddle (@TeeRiddle) December 28, 2016
The image that caused the controversy was actually used earlier this year on May 4th, a day that has become known as Star Wars Day. Then, the company stated Leia had the "second best" buns in the galaxy.
Here's to the princess with the second-best rolls in the galaxy. #MayThe4thBeWithYou pic.twitter.com/N03d6ZnQs5

— Cinnabon (@Cinnabon) May 4, 2016
Be the first to receive breaking news alerts and more stories like this by subscribing to our mailing list.