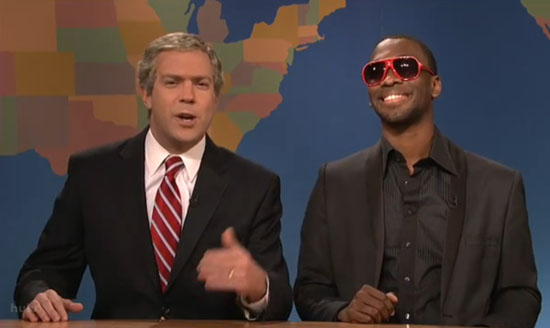 Kanye West has already publicly apologized to ex president George Bush for making that infamous "George Bush doesn't care about black people" comment back in 2005, and George Bush himself has said that he accepts Kanye's apology. But apparently that wasn't enough, as the rapper and the former president decided to show the world (via Saturday Night Live's "Weekend Update") that they really are BFFs now. And apparently, the two have a lot more common than you might think!
"We're both rich, we're both impulsive," Bush said. "He interrupted Taylor Swift at an awards show, and I interrupted how well our country was doing for 8 years!"
Check out the hilarious SNL sketch featuring Jason Sudeikis (as George Bush) and newcomer Jay Pharoah (as Kanye West) below!!
Be the first to receive breaking news alerts and more stories like this by subscribing to our mailing list.