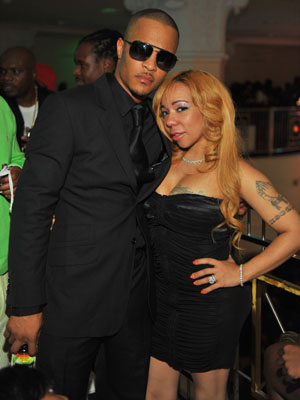 Tameka "Tiny" Cottle was due in court Monday (Nov 1) to answer to charges regarding the September 2010 arrest in L.A. where cops found ecstasy in she and her husband T.I.'s car, and now she's heading to trial after pleading "not guilty" in the case.
Tiny had her lawyer submit her plea on behalf because she was in Arkansas saying goodbye to Tip (who began his 11-month sentence Monday as well).
Tiny and T.I. were arrested in September in a traffic stop when authorities allegedly smelled marijuana coming from their vehicle.
Upon searching the car, police found pills (later determined to be ecstasy) and charged the rapper and his wife with drug possession.
But since T.I. was already being charged with violating his probation, his drug charges were dropped and now Tiny faces those charges along.
Tiny is due in back in court January 6th for a pre-trial hearing, and she faces up to 1 year behind bars. However, since this is her first run-in with the law, the judge is likely to give Tiny a stern warning along with community service or some other "non-jail" alternative.
Be the first to receive breaking news alerts and more stories like this by subscribing to our mailing list.