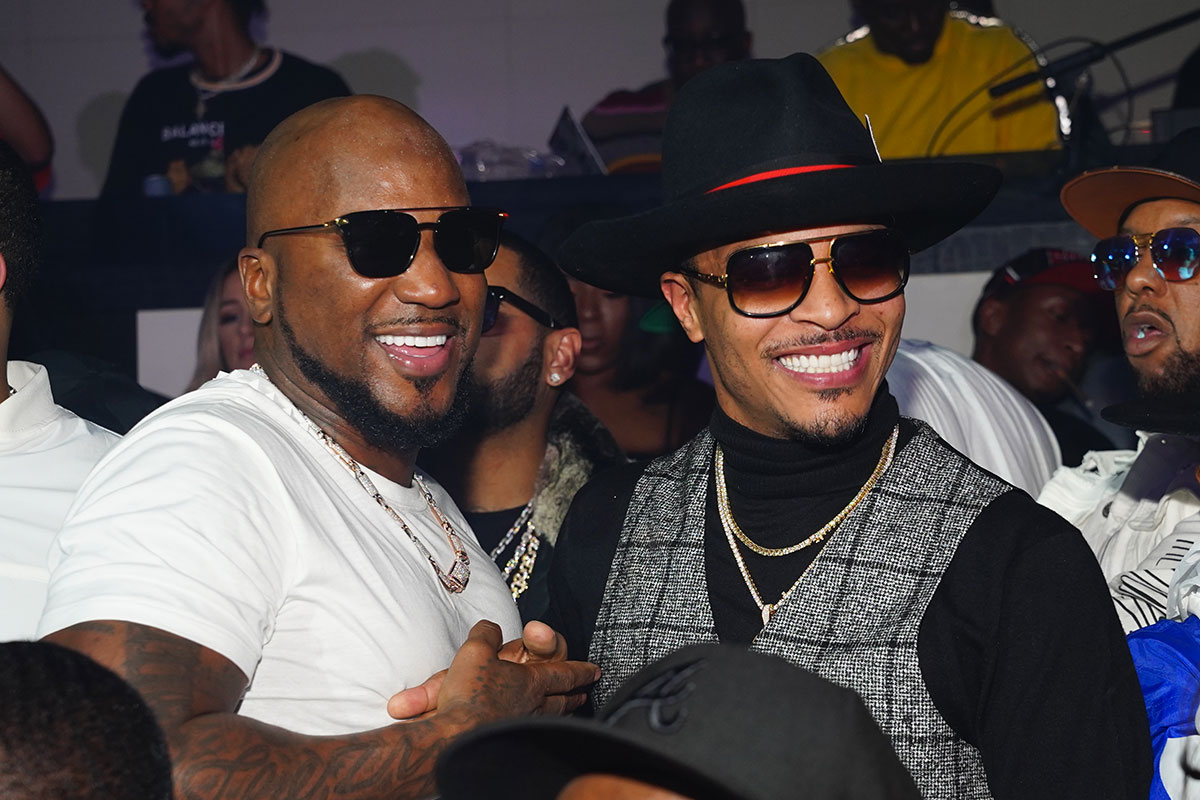 It looks like T.I. is ready and willing to go head-to-head with Jeezy in an upcoming Verzuz battle!
While the Verzuz platform hasn't confirmed the event just yet, after a back-and-forth, T.I. has accepted Jeezy's challenge to go hit-for-hit in front of thousands (possibly millions) of people on Instagram Live and Apple Music.
On Wednesday (Oct. 21), just hours after Tip respectfully declined a Verzuz against Busta, Jeezy hopped on Instagram to let the "Whatever You Like" rapper know he's ready to battle. Though Jeezy didn't specifically name T.I. in his post, it was pretty obvious who he was referring to.

"Say, bruh, you done been around the whole world on your campaign. Now you're back here. I don't know what you're avoiding me for. I'll tell you what, though, since it means that much to ya—put a date on it," Jeezy said. "I ain't gon' meet ya there—I'm gon' beat ya there!"

T.I. popped up in the post's comments, confirming fans' speculation, writing, "Hmmm. Could this long time constituent of mine be referring to me???"

In his own IG post, Tip tagged Jeezy, Swizz and Timbaland to let them know he's ready to schedule the face-off "ASAP."

"Y'all tell [The Snowman] 'I'll be his Huckleberry," T.I. captioned a clip. "Order this sh*t off the menu & you shall be served SIR. Now let's see how much heat it takes to melt this snow."

He added, "ASAP IS THE DATE I SELECT SIR."

In the video he posted, T.I. said of his fellow trap star, "I wanted Young [Jeezy] to be able to sit comfortably in his position in the south, or in Atlanta anyway, without having any kind of contest. And, of course, with us being partners and all… [I didn't] wanna be trying to go back and forth with my partner. But, if he asks for it; he shall receive."

"I like his sh*t — Young [Jeezy] got bangers," Tip added. "Sure would hate to melt that snowman! Snowmen are seasonal. Kings are forever."
Well, there ya have it! Now we're just waiting on the final word from Swizz Beatz and Timbaland.
See both Tip and Jeezy's IG posts below:
https://www.instagram.com/p/CGn4VGBJ6yG/
https://www.instagram.com/p/CGoB8MwA8D2/
Be the first to receive breaking news alerts and more stories like this by subscribing to our mailing list.