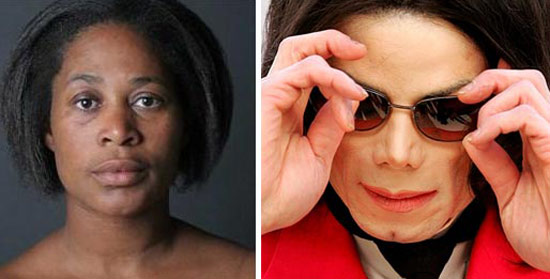 Come on now… you can't be serious!
According to TMZ, a woman by the name of Mocienne Petit Jackson has filed legal documents claiming that she is the daughter of the late Pop idol Michael Jackson. In the documents filed…Mocienne claims that back in 1975, MJ who at the time was 17…. secretly impregnated her mother who she says is Diana Ross' sister. But that's not the end of it….the alleged love child goes on to say that when she was 9 years old, Michael's mother Katherine Jackson set out a plan to have her abducted and sent off to Belgium in order to protect MJ's reputation. However "luckily" all 7 of her abductors were later killed off. In return for her suffrage, the lady wants her part of MJ's inheritance and custody of his kids so that she can give them a more normal life.
She also claims to have Vitiligo just like how Mike did.
Ain't this a bunch of bullsh**! This lady doesn't even look like she has the least bit of Vitiligo…..SMH
Be the first to receive breaking news alerts and more stories like this by subscribing to our mailing list.