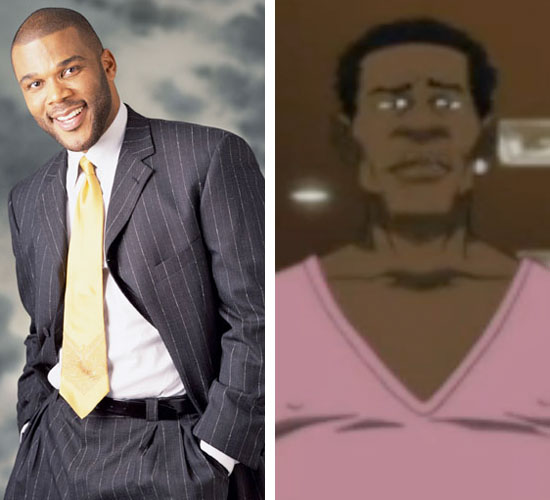 We're still waiting on Tyler Perry to personally respond to all of the drama surrounding a Boondocks episode that aired a couple of weeks ago depicting the writer/director as a male obsessed, cross-dressing control freak slash diva. But in the meantime, the folks over at RollingOut.com say that Tyler didn't fire his entire staff as we previously reported over the weekend nor is he suing Boondocks creator Aaron McGruder. But he does feel a bit betrayed by Turner Network who ironically is behind both the Boondocks AND Tyler Perry's sitcoms (SMH…)
In addition, Tyler also knows the identity of the person who helped McGruder develop the script for the "Pause" episode. And though the person's identity is unknown, we do know that they're a former staff member at Tyler Perry Studios who was fired a while back and is now working with McGruder's show.
Continue reading for all the latest details in this Tyler Perry vs. Boondocks saga…
Contrary to erroneous reports on some popular blog sites and the Atlanta Journal-Constitution, Tyler Perry is not suing Aaron McGruder over the highly publicized "Boondocks" episode that lampooned Perry's famous Madea character, blasted Perry's leadership style and seriously questioned his sexuality. But Perry, whose popular pistol-packing, profane Madea character has helped rake in tens of millions at the box office over the past decade, is definitely ablaze with anger for the derisive and embarrassing depictions of him on the popular cartoon series.

Perry, according to this writer's inside source, knows the identity of the person who crafted the script that McGruder aired last Sunday titled, "Pause." The person, whose name was not available at press time, is a former staff member at Tyler Perry Studios who was fired some time ago and re-emerged on the other side of Turner, working with McGruder. Whether this episode was a vindictive, vengeful act for being terminated by Perry is not yet known. Remember, though: part of "Boondocks" appeal is the fact that McGruder routinely charbroils popular personalities for one reason or another.

Furthermore, Perry feels betrayed by Turner Network. Both Perry's and McGruders's shows are on the same network, yet Turner failed to alert Perry that the controversial "Boondock" episode was going to air until the day of.

The "Boondock" episode depicted Perry in very unsavory, unflattering terms. McGruder painted Perry as a ruthless control freak and diva who isolates cast members from their families. He also made blatant referrals to Perry's sexuality, suggesting through the Winston Jerome character that Perry has an affinity for sculpted young men who walk around bare-chested and bathe their upper torsos with liberal doses of lotion.

Despite his anger and ruffled feelings, Perry didn't snap and channel his inner Madea by firing his entire staff.
You think Tyler should respond to this or should he just remain quiet?
Be the first to receive breaking news alerts and more stories like this by subscribing to our mailing list.