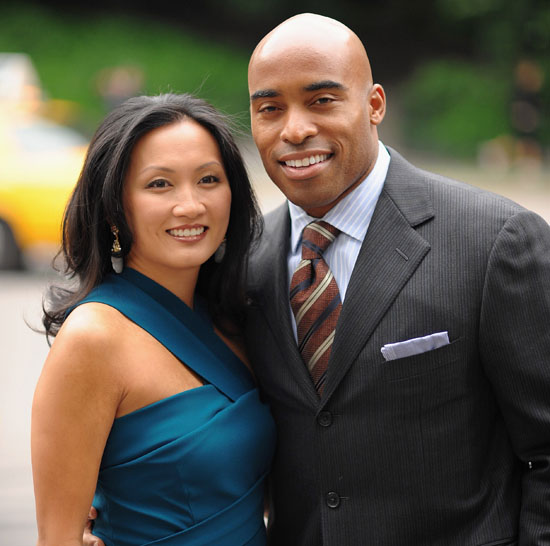 Former NFL player Tiki Barber has been served divorce papers by his pregnant wife Ginny on claims of Tiki being unfaithful to her. Ginny, who is currently pregnant with twins and on bed rest made this move following reports of Barber having an affair with a hot young blonde NBC intern named Traci Lynn Johnson. The Today Show corespondent's now estranged wife also says that he's been "low-balling" her in possible out-of-court settlements over child/spousal support, which prompted her to take everything to the courts.
"He couldn't be more heartless," said a friend of the gridiron great and his eight-months-pregnant wife, Ginny, whose Manhattan divorce suit cites tricky Tiki's "adultery. [Ginny] is very heavily pregnant and was last week ordered into the hospital on bed rest," the friend said. Tiki, who already has two sons with Ginny — A.J., 7 and Chason, 6 — is now shacked up with the sultry Johnson in a Midtown love nest.

When ducking out of that apartment and into his car yesterday, Tiki refused to answer a reporter's questions and only flashed a grin when asked whether he had recently spoken with his wife. Ginny Barber is also outraged that Tiki has been low-balling her in out-of-court negotiations over financial support, a family friend said. "Tiki refused to give her anything close to what she needs," the friend said. "The reason she filed is that settlement talks didn't work."

The divorce action was filed in Manhattan Supreme Court and accepted by Tiki's matrimonial lawyer on his behalf.

PAGE SIX
Be the first to receive breaking news alerts and more stories like this by subscribing to our mailing list.