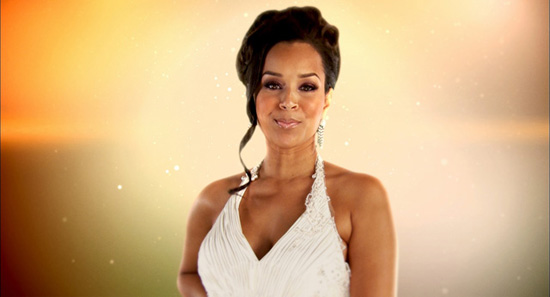 Honey Mag chatted with actress turned reality TV star LisaRaye McCoy, who recently signed divorce papers against her husband, Michael Misick, the former Premiere of Turks and Caicos, about her marriage, the divorce, whether or not she got married for the money and more.
She also touched a bit on how she feels about Rocsi (from BET's 106 & Park) creeping with her man and how her relationship with fellow actress (and once best friend) Vivica A. Fox is. Peep a few excerpts from the interview below and when you continue reading…
You have been going through your divorce to former premier Michael Misick for over a year. Is it final yet?
When you're going through a divorce, that's sad in itself. When you're fighting the man that runs the country, that is a totally different thing. It's a different country and they don't do things the same way we do things over here. The divorce is final. The second part, which is the divorce settlement, is not.

You signed a prenuptial agreement. What seems to be the hold up with your settlement?
We are still going through that now. This man has lost his position, his lifestyle, family, and his government legacy. That is a lot. He's facing not only an investigation, but also charges. And not just from the governmental standpoint, but he also had charges for rape. That's a lot for one man to take on. And he loses his wife. I get that there are some other priorities in his life. My thing is that I'm waving my flag over here going okay so we agreed that we are no longer interested in being together. So let's be fair with each other.

Many people feel that you married him for the money. Are you a gold-digger?
The perception that they have of me — I could give less than a damn about. I say this to them. I dug for gold in high school. I'm a platinum girl now. I'm an international person. I don't even like taking out the trash. I don't dig for anything. I don't have a garden either. Every relationship that you embark on is some kind of business relationship. You got to look at it that way. You got to protect yourself, not just from the man next door, or Uncle Sam, or the IRS, you got to protect yourself from anyone you're in business with. So you better look for someone that's going somewhere who's trying to take you with them. Money attracts money. Power attracts power. You ain't got to tell the white girls that. Look at Jackie Kennedy Onassis. She stepped from Kennedy to Onassis. Do you think she stepped from Kennedy to Burger King man? No.

How did it go wrong?
He had a child within our marriage with the same baby's mother that he had his first child with, which I did know about. When a woman feels something is going on we go into that investigative mode. And when I did that, I got all of my ducks in a row and I brought it to him and said what is this all about? He explained it to me. I said to myself, 'Is this worth me breaking up my new marriage for?' It was deceitful but it wasn't worth me breaking up my marriage at the time. But I had to think if I trusted him. Trust is a building process. So while we are trying to build the trust, so many things were happening with affairs and the corruption of governmental funds and then the Rocsi thing.
Did you know Rocsi
I knew Rocsi in the mutual respect that we were both public figures. And she interviewed me before on 106th and Park.

Were you shocked when you found out about Rocsi and your husband?
I'm never shocked, girl. I don't put anything past anyone. I was very disappointed in the way it was handled. Because to me, if you're going to do whatever you're going to do… respect your [and my] home. Do that over there, not here. And the way it was done so publicly with people calling me saying, 'Hey, you know I've seen pictures on the Internet in your backyard? And I see that she flew in and you flew out.' I didn't know that she knew my husband.

Have you seen her since?
Have you heard that I've seen her? You will hear about it. I'm sure that you will.

Your divorce has been a very public one. Have your friends helped you through this?
There was a lack of support from my friends that I embraced and took over there (Turks and Caicos). When you have a friendship and you come out of your funk you do look for someone to comfort you and say girl I got your back. Do you need anything?

Were you saddened by the fact that Vivica Fox was not by your side through the turmoil?
I wasn't going to lie down and die because I fell out with Vivica. I keep it real. I'm not going to say I could care less. Once you go through the hurt that your friend is not there, you tend to [say] 'it is what it is.' Let me keep on moving.

Why aren't Vivica and yourself no longer friends?
I'm looking for the answer now. It's confusing to me. It's puzzling. You have to ask yourself why. And although I have wanted to ask her why, I go back and forth because I'm like why am I extending the olive branch. So I'm kind of torn. Because we have said we are going to talk but I get to thinking about it and it makes me go you know what fuck it. Nah. Uh uh. I don't know what she could possibly say to me that could make me say okay.

Did anything specific happen between you and Vivica?
On my part there are some things that happened. That, I know. But she doesn't know that I know. We haven't had an opportunity to sit down and talk about those things. I don't know if there are some things that she thought that I'd done. Definitely she was not in the midst of my marriage. So while it was going on I don't know what she could have thought was more important than a woman whose life is changing. If by chance my drama was too much for my friends to handle that says a lot about a friendship too.

Is there anything you would like to say to Vivica?
What couldn't you put [some things] on the back burner and say my friend needs me? Let me go to her. You can't be with me while the chips are down? But while things were good, 'we flying over here.' We at my house free styling and profiling and you can't be there when I'm going through it. Huh I don't need you. I definitely don't need you while I'm on the up swing. It's sad to me. That says a lot about a woman to me. That says a lot about a person's character.
Be the first to receive breaking news alerts and more stories like this by subscribing to our mailing list.