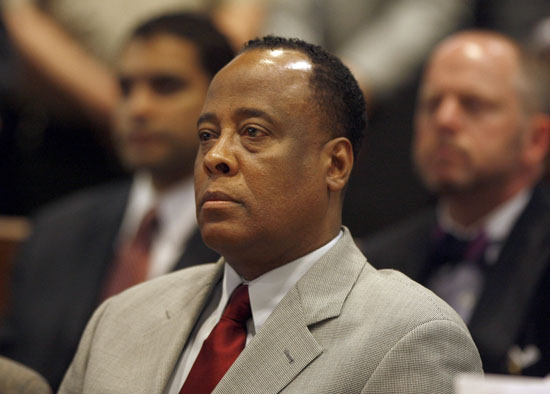 Dr. Conrad Murray, the man accused of murdering Michael Jackson, was arraigned in court Monday (Feb 8) after being charged with involuntary manslaughter in connection with the King of Pop's death last summer.
The criminal complaint says that Dr. Murray "did unlawfully, and without malice, kill Michael Joseph Jackson … in the commission of an unlawful act, not a felony; and in the commission of a lawful act which might have produced death, in an unlawful manner, and without due caution and circumspection."
His bail was set at $75,000, which is three times greater than what people thought it would be. Though he wasn't handcuffed, police took Michael Jackson's former doctor into custody for booking. In addition, Murray must surrender his passport, which means he will not be allowed to leave the country. And if convicted, he faces a maximum prison sentence of 4 years.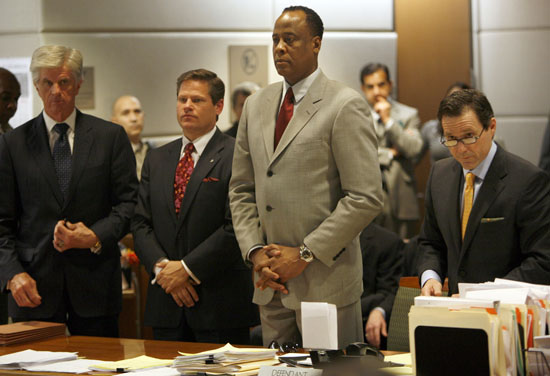 The Jackson Family – Joe, Katherine, LaToya, Jermaine, Tito and Randy – were there, and as they made their way to their vehicles following the hearing, they candidly spoke to reporters.
After the proceedings, Mr. Jackson's father, Joseph, who attended along with other members of the Jackson family, was asked his reaction to the charge. "We need justice," he said..

NY TIMES
"He's a monster," said the pop singer's mother, Katherine Jackson, after a hearing for Dr. Conrad Murray. "This charge is a slap on the wrist," said Brian Oxman, longtime lawyer for Jackson's father Joseph. "There's great disappointment here. [Conrad Murray] should've been charged with a higher degree of responsibility. What he did was reckless. It was a disregard for human life."

"Michael was murdered and although he died at the hands of Dr. Conrad Murray, I believe Dr. Murray was a part of a much larger plan," said Jackson's sister, LaToya. "There are other individuals involved and I will not rest and I will continue to fight until all of the proper individuals are brought forth and justice is served."

PEOPLE
PHOTOS: GETTY IMAGES / AFP