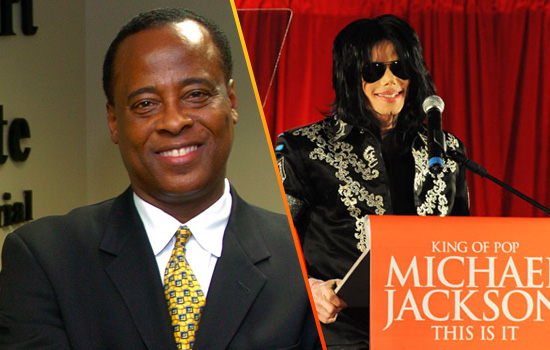 It's being reported that Michael Jackson's doctors, Dr. Conrad Murray and Dr. Arnold Klein, are both set to be arrested in the upcoming weeks and both will most likely be charged with Michael Jackson's death. Murray, Jackson's personal doctor, is facing manslaughter charges, while Klein, Jackson's dermatologist, will face charges linked to medical malpractice related to the singer's drug addiction. Dr. Klein isn't expected to be arrested for several weeks due to police still gathering evidence against him.
Officers investigating the late 'Thriller' singer's death are planning to arrest Dr. Conrad Murray over claims he gave Michael prescription drugs, including an injection of powerful anaesthetic Propofol which is alleged to have killed him on June 25. Investigators had hoped to take the physician into custody as early as next week, but they are now planning to issue one more search warrant – believed to be on a Los Angeles pharmacy – to gather more evidence before moving forward, according to Fox News. Murray – who has allegedly told officers he administered the injection – was to be charged with second degree murder, but officers fear they don't have enough evidence to make the charge stand.
Despite the reports, a spokesperson for the Los Angeles County District Attorney's office, denied prosecutors had decided to charge Jackson's physicians. She said: "Until police complete their investigation and bring it to our office, there is no way to know what charges may be filed and against whom." Earlier this week, Dr. Murray released a brief video online speaking about his client for the first time. In the clip he said: "I have done all I could do, I told the truth, and I have faith the truth will prevail. Because of all that is going on, I'm afraid to return phone calls or use my email. Therefore, I recorded this video to let all of you know that I have been receiving the messages."

Meanwhile, a doctor being questioned in connection to Michael's death has claimed she received death threats warning her not to talk to police. Dr. Susan Etok – who says she was asked to supply the 'Billie Jean' star with a number of drugs but refused – insists she wasn't worried about the messages. She said: "I'm not really taking them seriously." Explaining why she had been summoned to Los Angeles police station, she added to 'Entertainment Tonight': "They just want to basically get a background picture as to what kind of happened to Michael and everybody else that was involved.

SOURCE: CONTACT MUSIC
Be the first to receive breaking news alerts and more stories like this by subscribing to our mailing list.