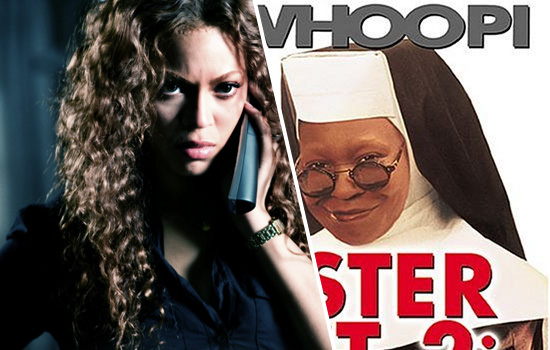 Since first starring in the MTV movie Carmen, Beyonce has began to sell herself not only as a singer but as an actress. Now, she wants to take on Whoopi Goldberg's old role and play a nun in the next possible film adaptation of Sister Act. Beyonce took a break from her "I Am…" tour to watch the show at the London Palladium theater recently and she is so desperate to star in a film remake that she is begging Disney bosses to pick up the project.
If this happens, she will play Deloris Van Cartier, the role Whoopi Goldberg portrayed in the 1992 movie. Cartier's character is forced to dress up as a nun while she runs from a group of gangsters. If Disney picks it up, filming will start after 2011.
We're not so sure if we can see Beyonce playing a nun, even if it's faking. Contrary to many beliefs, she really isn't a horrible actress. We were pleasantly impressed by her performance in Cadillac Records portraying Etta James, especially in the scene where she almost overdoses, and she wasn't too bad in Obsessed either, scoring a number 1 hit at the box office. But a nun? We'll just have to wait and see about that one!
Be the first to receive breaking news alerts and more stories like this by subscribing to our mailing list.