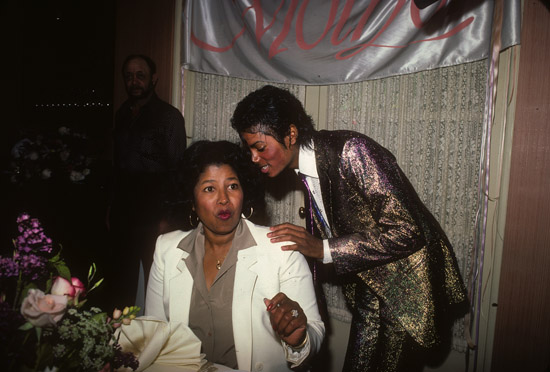 Here's some news that should come as no surprise. Michael Jackson's will was filed in Los Angeles court Wednesday morning (Jul 1) and a certain someone is missing. The five-page long, seven-year-old document, signed on July 7, 2002, includes his mother, Katherine Jackson, his good friend, Diana Ross and of course, his three children Prince Michael Joseph Jackson Jr. (12), Paris Michael Katherine Jackson (11) and Prince Michael Joseph Jackson II aka "Blanket" (7) Michael's father, Joe Jackson's name is nowhere to found, which isn't very surprising considering the relationship MJ had with him.
The will estimated Jackson's wealth at the time it was filed to be over $500 million, saying that the amount is made of "non-cash, non-liquid assets, including primarily an interest in a catalogue of music royalty rights which is currently being administered by Sony ATV, and the interests of various entities."
All of Jackson's assets will be left in the hands of the Michael Jackson Family Trust, of which Katherine Jackson is the beneficiary. The will also lists Mama Jackson as the primary guardian of Michael's children and includes a clause that states that in the event of Katherine not being able to care for them, Diana Ross would step in as the legal guardian.
"If any of my children are minors at the time of my death, I nominate my mother, Katherine Jackson as guardian of the persons and estate of such minor children. If Katherine Jackson fails to survive me, or is unable or unwilling to act as guardian, I nominate Diana Ross as guardian of the persons and estates of such minor children," Jackson's will stated.
Debbie Rowe, Jackson's ex-wife who was also the surrogate mother of his first two children, was also omitted from the will.
"I have intentionally omitted to provide for my former wife, Deborah Jean Rowe Jackson," the will states.
The three co-executors of the will are listed as John Branca (Jackson's lawyer), John McClain (music exec.) and Barry Siegel (Jackson's accountant who resigned in 2003).
"I hereby give to my Executors, full power and authority at any time or times to sell, lease, mortgage, pledge, exchange or otherwise dispose of the property, whether real or, personal comprising my estate upon such terms as my Executors shall deem best, to continue any business enterprises, to purchase assets from my estate…" the will says.
One key thing the will is missing is a proposed burial site and how he wished to be buried. However, new reports dictate that he will not be buried at Neverland ranch due to a California state law that says that you can't be buried on private property. It is still unsure whether or not a public memorial will be held this Friday at the Santa Barbara estate.
If you're interested in viewing the will for yourself, hit up TMZ.com
Be the first to receive breaking news alerts and more stories like this by subscribing to our mailing list.