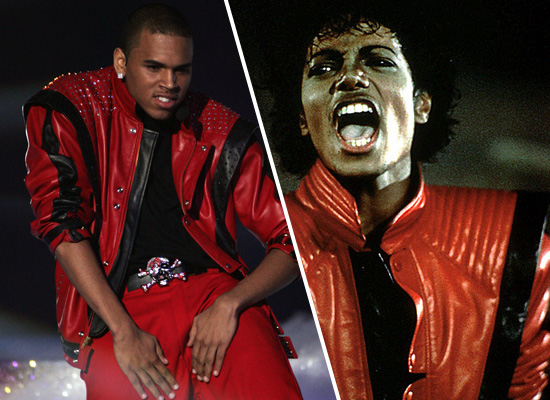 BET needs to be ashamed of themselves for using Michael Jackson's name to hype up ratings. Because that's EXACTLY what they did. If you didn't catch the 2009 BET Awards, trust us … you didn't miss much. The show was obviously thrown together at the last minute, and they should have left MJ's name out of it if they weren't going to deliver.
On Friday, via their official website, they put out a story saying that they would be "shifting gears" to honor Michael Jackson and his contributions to the world of music and the entire world in general. The final result? A sloppy mess that looks like it was put together in an AOL Instant Messenger chat room the day before. Now we're not going to knock Jamie Foxx and Ne-Yo for their tributes, because they were on point. And even Ciara did her thing too. But no one would have done a tribute like Chris Brown…

Chris Brown has been given the title as "the next Michael Jackson" ever since he first started "running it" back in 2005 with Juelz Santana. And he did the damn thing at the 2006 World Music Awards when he performed Thriller. Now, we all know he's been through his bout with the media with the whole Rihanna thing, but unfortunately BET couldn't put that aside for 5 minutes to honor the biggest name in music and entertainment.
"Chris Brown was supposed to open the show but BET executives were not agreeing to let Chris go on stage after they had already established that he was performing," a source revealed to Gossip On This. "A lot of reports were saying that he was using this as a way to rebuild his image. So at the last minute, he was pulled. … After 3 days of rehearsal, they pulled Chris Brown from the show…"
Upon hearing the last-minute news of Chris Brown not opening the show, calls to BET were made and were not returned…
In a nutshell, Chris Brown found out Friday that BET had given him the green light to perform and open up the 2009 BET Awards, which would have been great! But BET listened to the media, who basically told them that Chris Brown was just using the show to rebuild his image, which is completely false. It's a known fact that Chris Brown is a HUGE Michael Jackson fan, and Michael Jackson himself was a fan of Chris Brown. So he would have loved Chris to perform in honor of him.
So if you were wondering why Jamie Foxx and Ne-Yo performed a billion times … that's why. They were filling in for lost time. BET Networks should be ashamed of themselves and we hope the media drags them through the mud this week. Instead of looking out for Michael Jackson, the King of Pop, the King of MUSIC … BET decided to look out for themselves. And in the end, came out looking like fools.
Shame on you BET … shame on you! The VMAs are going to sh*t all over the BET Awards!!!
Be the first to receive breaking news alerts and more stories like this by subscribing to our mailing list.