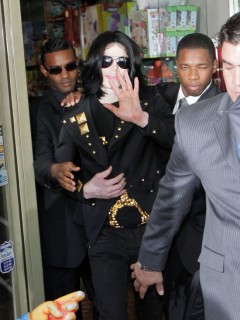 Despite his well-known legal and financial issues, Michael Jackson is still shelling out unnecessary money. He has reportedly ordered his promoters to build a replica of his former Neverland ranch to make his stay in the U.K. this summer feel more like "home." Recent reports say the undisputed King of Pop is renting a $24 million country house in Kent, England and a source tells British newspaper The Sun:
"Michael is quite particular. He's missed living in Neverland since debts forced him to get rid of it four years ago. He thinks he can recreate a bit of its magic in Kent and concert bosses are happy to indulge him. He loves bowling, so has insisted an alley be created and he's never lost his love of funfairs, so has demanded one be built in the grounds."

SOURCE
Jackson had to vacate his beloved Neverland ranch in 2005 due to him falling deep into debt. The ranch was basically a private amusement park that featured a zoo and a rollercoaster, among other rides and attractions.
Be the first to receive breaking news alerts and more stories like this by subscribing to our mailing list.