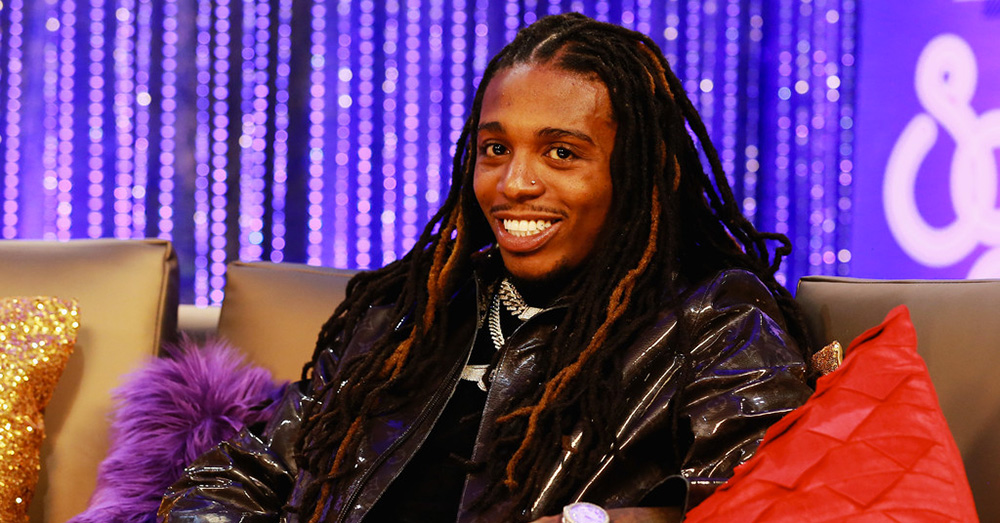 Either Jacquees fell and bumped his head or he's out here doing hardcore drugs.
The "B.E.D." singer sparked a huge internet debate over the weekend when he called himself the "King of R&B."
He said in a video posted on his Instagram page:
"I just want to let everybody know that I'm the king of R&B right now…for this generation. I understand who done came and who done did that and that and that but now it's my turn. Jacquees, the king of R&B. I just heard em said and I feel it. ATL, let's get it. I'm the king of R&B."
The reactions were swift (and hilarious). A number of male R&B singers chimed in on the debate, scratching their heads and basically laughing at Jacquees.
Tank came through with his take, saying that, in his opinion, R. Kelly is the King of R&B.
"The accusations don't disqualify what he's accomplished," Tank wrote on Instagram. "Second, if you can't go to the studio BY YOURSELF and make a hit record, you're not my king. If you can't sing it better live, you're not my king! I appreciate all the talent out there but we are using the word 'King' way too loosely!"
Tyrese shared similar sentiments, writing on Instagram: "Let me put you up on what's really movin bruh. This ain't Hip Hop my n*gha. You can't come in this game, get hot for a year and then try a #T69 n*ghas and throw that there word KING around… Imma keep it a stack with you… The young kings of your generation that's been runnin sh*t is 1 [Chris Brown] and 2 [Trey Songz] … BIG facts!"
He continued: "FYI the last real R&B album through and through that has the integrity and blueprint of the culture that was made with NO skips was Three Kings. You got this out of the T69 play book stop trolling my n*gha and get back in the booth…"
J. Holiday even crawled out of his unmade bed of irrelevance (again) and attempted to list who he believes are R&B Kings, all while being hilariously mistaken for a valet person.
Eric Bellinger laughed the whole thing off, saying: "N***as gotta put a lil more time in. [They] gotta actually have some hits, some consistency."
Chris Brown said he was "loving all the R&B love".
Pleasure P also chimed in with a message to J. Holiday, saying: "You know I love you bro but i want all the smoke. Let lil bro @jacquees [live]. I'm all the way in Fiji but I got time today. Let's do a friendly competition between all of us in R&B and see who put out the hottest record!! Tell me what day n time and I'm ready for whoever… Love you bro but you wrong."
He added: "Everybody like what they like. Nobody should be the king of anything. Everybody got hits. Everybody should tour together and uplift each other. That's the problem with R&B ni**as. R&B ni**as always wanna act like they better than [the other]."
Kehlani also offered her take, saying that Beyoncé is the King of R&B, but Jacquees wasn't trying ot hear that. "You spelt my name wrong twin," he tweeted at her.
You spelt my name wrong twin ? https://t.co/GEPgJGNGmj

— Jacquees (@Jacquees) December 10, 2018
Diddy shared his opinion as well, basically letting folks know, without calling anyone out specifically, that in order to be the King of R&B you need to make actual R&B music.
King of R&B pic.twitter.com/DCUCDFjCOY

— Diddy (@Diddy) December 11, 2018
Tory Lanez didn't seem too pleased with the Jacquees slander though, tbh.
Tory Lanez speaks on jacquees' comment. ? pic.twitter.com/IL195cLfLE

— 12/13 ?????? (@Keyydagreat) December 11, 2018
Meanwhile, Twitter went all the way AWF with the best reactions, including a bunch of jokes and hilarious memes:
Jacquees got the TL like … ?? pic.twitter.com/WKqh7ybxza

— Kirko Bangz (@KirkoBangz) December 10, 2018
The fact that nobody agreed with Jacquees and instead everybody just started arguing over who it really is ???????????????????????????????????????????????????

— You Know My Name (@LookAtDustin) December 11, 2018
The boys in motion better than Jacquees.

— It's OKAY? (@imitationTACO) December 11, 2018
Jacquees ain't got nothing on the real Kings of RnB ? pic.twitter.com/3vCzZPA6FG

— Brother to the Night ? (@zai_savvy) December 11, 2018
10 R&B artists better than Jacquees:
1. Brent Fiyaz
2. Bryson Tiller
3. Khalid
4. Daniel Caesar
5. 6lack
6. Drake
7. YG
8. You
9. Me
10. Niggas listening to Boo'd up in the shower

— lonzo (@lonzojr_) December 11, 2018
Jacquees: I'm the king of R&B

The United States of America: pic.twitter.com/90sVz0PJjW

— ?Jon (@iamjonattan) December 11, 2018
Jacquees-" I'm the King of RnB"

Black People-"…" pic.twitter.com/wrY2ZEJvLW

— Dear Morgan State (@DaRealMSU) December 11, 2018
Jacquees could never pic.twitter.com/07vAwnsbXB

— DR€W? (@yalljust_myfans) December 11, 2018
Fam this the funniest shit I ever seen man oh my god ????????????????????? he way better than Jacquees pic.twitter.com/UeTn2SNPP9

— Ty Phillips (@inTYnational) December 11, 2018
Jacquees: "I'm the king of R&B in this generation"

All of Twitter: https://t.co/HjneHOxvR8

— $coot Tarantino?? (@LilScoot45) December 11, 2018
If Jacquees was in college, he'd get kicked out for plagiarism

— Dee Holt??? (@D_1andOnly_) December 11, 2018
Somebody tell @Jacquees – Whitney rolling over in her grave 😉 pic.twitter.com/BAYLJSsO6v

— Lena Waithe (@LenaWaithe) December 11, 2018
this colder than anything jacquees ever dropped, stop playing with dawg pic.twitter.com/kprGRysoeq

— a$h ca$h? (@_ashajanel) December 11, 2018
If were being honest… Jacquees even got Justin Bieber fucked up ??

— It's OKAY? (@imitationTACO) December 11, 2018
I don't know why Twitter going in on Jacquees like he didn't give us this bop pic.twitter.com/VLfE8edAey

— Desire #Simmer (@DesireAnne_) December 11, 2018
.@Jacquees : "I'm the King of R&B"

The World: pic.twitter.com/gAfwSCtxq3

— Dimitri R. Young. (@DimitriRYoung) December 11, 2018
now that Jacquees has woken up all RnB veterans, i hope someone come out with an album

— juiceless jaida (@jaytovenn_) December 11, 2018
Gotta salute Jacquees for the elite level troll. Now everybody gone listen to his next project just to tell him he a liar. Mission accomplished.

— Krew Season (@AskTrillAC) December 11, 2018