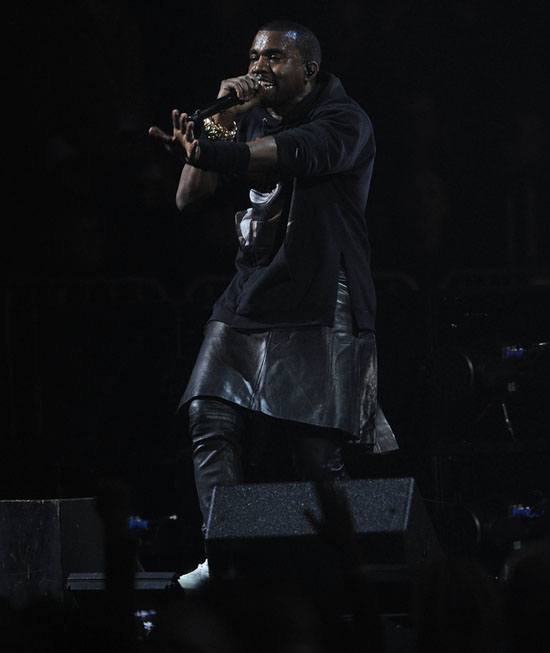 Kanye West wore a leather skirt while performing during last night's "12-12-12" Hurricane Sandy benefit concert in New York City, and just about everyone has something to say about it.
The rapper, dressed in a Pyrex hoodie and leather kilt with leather "meggings" (man leggings), performed around a dozen songs from his past and current catalog of hits, including "Mercy," "Clique," "Power," "All of the Lights," "Diamonds," "Gold Digger," "Jesus Walks" and "Stronger," and many others.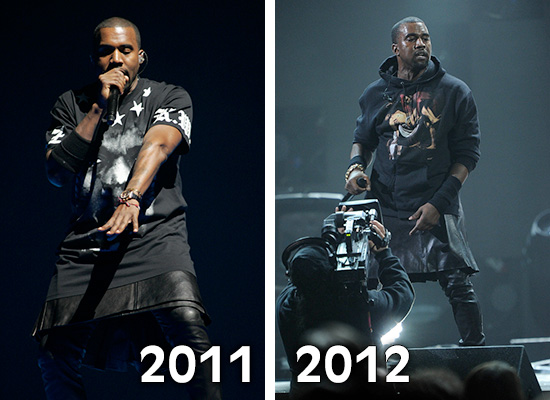 Of course this wasn't Yeezy's first time — or second, third, fourth or fifth — rocking a skirt on stage, as the rapper performed nearly 60 shows of his "Watch the Throne" Tour with Jay-Z wearing one.
But the nationally televised benefit show — which was also streamed live online — helped Ye share his unique sense of fashion with over 2 billion people. So naturally, Twitter immediately reacted with a bunch of commentary, and below are a few gems:
Kanye must have swapped suitcases with Kim Kardashian #121212concert

— David Wong (@The_David_Wong) December 13, 2012
Why is Kanye wearing a dress? And where did his talent go? — Rangers Report (@rangersreport) December 13, 2012
Why is kanye wearing a skirt? Why did they let him in there??? — Batman* (@sean77staley) December 13, 2012
Was Kanye's leather skirt part of the new Kardashian Kollection at Sears?

— Brynn Foley (@BrynnFoley) December 13, 2012
Can everyone please take a moment of silence in honor of Kanye's skirt?

— Amanda Morris(@mandaaamorris) December 13, 2012
Everyone keeps tweeting about Kanye's leather skirt, but let's not ignore the leggings underneath.

— Jimmy Traina (@JimmyTraina) December 13, 2012
Wow. My Wife and Kanye have the same skirt.Wonder if he is wearing same G String underneath?

— jim florentine (@Mrjimflorentine) December 13, 2012
Hey Kanye, imma let you finish, your black leather skirt was cool, but I wear the best black leather suit of all time. — Darth Vader (@DepressedDarth) December 13, 2012
So A$ap wore a dress. Then Kanye wore a skirt . Whats next ? — K'V?üghñ™ (@_SoFarForeign) December 13, 2012
So I hear #Kanye was wearin a #skirt. Wat a homo

— Mike Dewes (@dewesmike) December 13, 2012
Even fellow rapper Cam'Ron — who had a strange obsession with wearing pink back in the early 2000's and therefore has zero room to talk about anyone's style — chimed in, tweeting:

There was at least one Twitter user that LOVED Kanye's outfit though:
Awwwwwwww I'm so excited right now!!!!! He looks so cute!!

— Kim Kardashian (@KimKardashian) December 13, 2012
More pics of Kanye and his skirt are below: