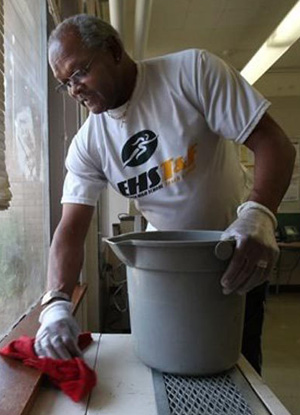 What would you do if you won $3.5 million dollars playing the lottery?
Well … this guy — 60-year-old Tyrone Curry — donated $40,000 to the high school where he  he works at as a coach AND a janitor to help them get a brand new track!
"He was always talking about how he wanted to do that," said his friend of 30 years, Frank Luckett. "He's the kind of guy that even when he was having hard times, he would somehow come up with money to help a kid who needed a uniform or a bag."
And get this: Mr. Curry has been working for the Highline School District in Washington for 35 years, and still works there, and on the side as a seating host for Safeco Field and as assistant head usher at KeyArena, despite his multi-million dollar lottery win.
"He hasn't changed a bit," said his friend Luckett.
Read more below:
On Friday, Curry, 60, watched as crews painted white stripes around the brand-new track at the school where he's worked for 20 years as a janitor and a coach.

A King County parks grant paid for part of the $175,000 track. The rest, $40,000, came from Curry, out of the $3.4 million he won from a lottery ticket on June 6, 2006.

"I wanted to do something for the kids who are here now and for all the future kids," said Curry, who has five grown sons of his own.

The $40,000 he paid on the track — and the two new cars he bought for himself and his wife — well, that's about the only big money he's spent since he won, he said.

He lives in the same modest, three-bedroom Shorewood-area house he lived in before, though he has put in new siding, a new fence and a new driveway.

He still works the same jobs as a janitor and a coach for the Highline School District, where he's been working for 35 years. And he still works on the side as a seating host for Safeco Field and as assistant head usher at KeyArena.

He and his wife, Michele, still live on the income he brings in from his jobs. He still thinks of bowling night as his big night out, he still wears shoes older than some of the kids he coaches, and he still hangs out with his same old friends.

"He hasn't changed a bit," said his friend Luckett.

Curry, who was raised by a single mother with nine children, grew up in Seattle and attended Garfield High School before joining the Navy and then attending the University of Washington.

His mother worked two to three jobs to raise her children, and she taught them to live modestly and conservatively, he said.

"She kept us grounded," he said. "She taught us to work for what we got and to work with what we got," he said.

He had hoped to become a teacher, but kids and life interfered, he said, and he never earned his degree.

When he left college, he found a job as a teaching assistant at a Highline School District middle school, but when funding for that position was cut, he accepted a job in maintenance and moved over to the Evergreen Campus, he said.

He and his family were on the verge of bankruptcy when he won the lottery, he said.

Luckett said he told Curry that while $2.5 million, the amount he received after taxes, might sound like a lot, he'd have to be careful, as it wouldn't stretch very far for very long.

"He was always giving his all away, especially to his family. I told him before, 'You got to stop that. That's why you're always broke,' " said Luckett. "After he won, I told him, 'You didn't win $50 million, you won $3.4 million. It's not that much.' "

Of course, Curry and his wife couldn't resist giving money to their kids and their parents; and Curry is developing a piece of property in Oklahoma for his siblings to live on.

He said he told his wife she "could get anything she wanted, but she said she had all she needs," said Curry. His wife also reminds him, he said, that they need that money for retirement.

"We really don't think about it," he said. "I'm the same average Joe Citizen I always was."

Even so, Curry said he still makes his plans.

Curry said he knew the very first time he bought a lottery ticket years ago that he would win one day.

"I just knew," he said. "And I know that I'm going to win it again."

When he does, he said, his next project is a new tennis court for the school.

"I want to put in things that can be useful to people, that can be used by the kids, by neighbors and other people. It's not about me, it's about other people and what I can do for them."
Aww, how nice of him to donate a chunk (a small chunk … but still a chunk) of his million-dollar lottery earnings to help give his school a new track! We guess there still is some good left in the world…
Published