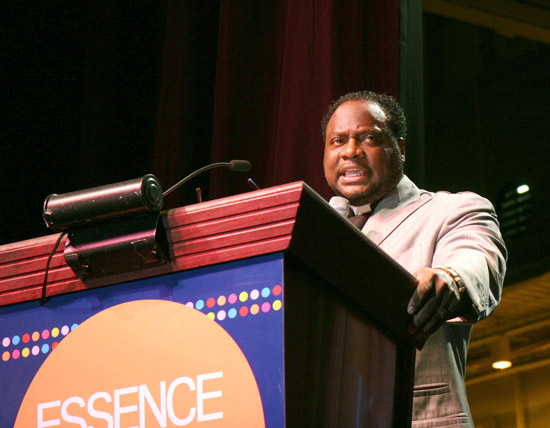 Bishop Eddie Long, who is the pastor of New Birth Missionary Baptist Church (one of the country's largest churches), has gotten himself caught up in a HUGE sex scandal amongst some MALE members of his congregation! According to the Associated Press, the Georgia mega-church pastor "abused his spiritual authority to seduce [young men] with cars, money, clothes, jewelry, international trips and access to celebrities."
Two men, ages 20 and 21, filed lawsuits in Dekalb County alleging that Long coerced them into having sex in exchange for money, cars, cross-country (and international) trips, and more. The young men say this has been going on since they were 16 years old and are seeking a trial by jury and unspecified damages.
Long, however, denies ALL of the allegations and calls the charges brought against him not only "false," but "ugly."
Read the full story by clicking on the link below!
A Georgia megachurch's pastor accused of forcing young men in the congregation to have sex with him asked for patience Thursday "while we categorically deny each and every one of these ugly charges."

Bishop Eddie Long, of the New Birth Missionary Baptist Church, near Atlanta, said that he wanted to address the charges directly but had been advised not to by his lawyer. "Let me be clear — the charges against me and New Birth are false. I have devoted my life to helping others and these false allegations hurt me deeply," read a statement from Long. "But my faith is strong and the truth will emerge. All I ask is your patience while we categorically deny each and every one of these ugly charges. As I have done for thousands of others over decades of preaching, I ask for your prayers for me, my family and our church," Long said in the statement.

The bishop added that he would "respond to my congregation" on Sunday at the New Birth church. The statement was read by attorney Craig Gillen on the "Tom Joyner Morning Show."

Long's accusers, Anthony Flagg, 21, Maurice Robinson, 20, and Jamal Parris, 23, seek unspecified damages. The lawsuit involving Parris was filed shortly after complaints by the other two men were submitted on Tuesday in DeKalb County, Georgia. "Long has a pattern and practice of singling out a select group of young male church members and using his authority as bishop over them to ultimately bring them to engage in sexual relationships," according to the lawsuits. Other prominent Protestant pastors who have been ensnared in sex scandals include Ted Haggard, the politically influential head of a Colorado megachurch until he was felled in 2006 by allegations of an affair with a male prostitute.

Long built the church from just 300 members in 1987 to more than 25,000 today. The church, set on a campus east of Atlanta, runs a global network of ministries and businesses. It hosted the funeral in 2006 of civil rights leader Coretta Scott King. The men allege that Long, an outspoken critic of gay rights, seduced them with cars, money, clothes, jewelry, international trips and access to celebrities. The suits claim many of Long's alleged victims are known in the 25,000-member church as his "Spiritual Sons," though the suits say the congregation was "likely unaware" of what allegedly took place. Robinson's and Flagg's attorney, Brenda Joy "B.J." Bernstein, said that the two men were past the legal age of consent in Georgia, which is 16, when the alleged relationships started.

As teenagers, Robinson and Flagg joined one of the church's ministries, the tuition-based Longfellows Youth Academy. The court documents say the program "purports to train young men to love, live and lead as they proceed on their 'masculine journey,'" and "seeks to create committed men of God."

'Sexual touching'
Through the academy, Robinson and Flagg formed closer relationships with Long and, the documents allege, the nature of those relationships crossed the line into impropriety. On a 2008 trip to New Zealand for Robinson's 19th birthday, the suit claims Long engaged in oral sex with him, and that after the getaway, Long "regularly engaged in sexual touching and other sexual acts" with him. It also claims Long regularly gave him cash, paid his college tuition and attempted to "engage in sexual relations" with Robinson during a May grief counseling session after the death of Robinson's best friend.

Flagg's lawsuit states that Long arranged for him to move out of his mother's home so he could provide him with further spiritual guidance. The suit says Flagg's mother believed it would provide "stability and more opportunity to learn and grow with such an important spiritual mentor in her son's life." But the lawsuit alleges that Long started sleeping in the same bed as Flagg, and "engaged in sexual massages" with him. It says Long "then increased the sexual contact" to include oral sex. Flagg also allegedly traveled with Long; the suit claims that Long and Flagg shared a bedroom on overnight trips and "engaged in intimate sexual contact" which included "kissing, massaging, masturbating … and oral sexual contact."

Stance against homosexuality
Bernstein told reporters after the filing that Long "would use biblical stories to talk about how important it was to follow your leader," but that he also claimed "that the acts that he was engaged in were not necessarily meaning that he was a homosexual or that either of them was." The claims run counter to the public persona of the married pastor.

The Spring 2007 issue of the Southern Poverty Law Center's "Intelligence Report" included a profile of Long as part of a larger report on black church leaders "who have joined the historically white-dominated Christian Right movement against homosexuality and homosexuals." When asked about a possible motive for the accusations, Gillen referred to a break-in at Long's office in June.

Bernstein said Robinson is indeed facing a criminal burglary charge in the June incident, but she noted that he returned the stolen items, which she said included an iPad and some jewelry. She said she expects Long and his attorneys to use the incident to paint the defendants as "bad" boys. "And yet, as bad as it is, if it weren't for that act, I don't know if we would know about this [the alleged acts]. Because this young man exploded and he started to talk to his friends and realized he wasn't the only one," Bernstein said. "That Bishop Long had other 'Spiritual Sons' who had this other relationship with him. And it made him angry and confused and it combusted, and lashing out at the bishop in the only way possible," she said.

Source: MSNBC